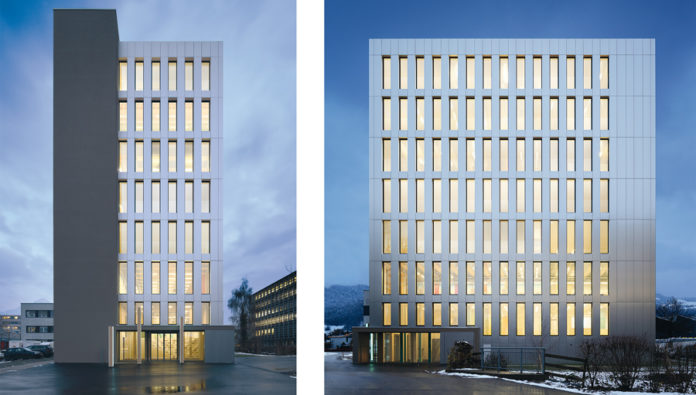 Through best practice examples such as LifeCircle Tower ONE in Dornbirn, an eight-storey timber construction, the region shows that it is aiming high with its regional construction material resource of timber.
In this exemplary project for sustainable building by Hermann Kaufmann ZT GmbH architects, it was for the first time possible to make the load-bearing gluedlaminated timber girders remain visible. LifeCircle Tower ONE is Austria's first building in timber construction to reach high-rise building dimensions.
With the innovative construction technique, prefab timber modules, grouped around an in-situ mixed concrete core, eight storeys were erected by a team of only five assembly people in only eight days. The key to success is a timber-concrete composite slab. The objective of this pioneering construction was to test the system in terms of functionality and to present it as a future-proof model. The value chain of this regional resource shall continue to be fostered. Hardly a surprise that this building won the timber construction award in 2013. Good examples are followed with pleasure. At the end of 2013 with the same architectural management and the same client, CREE invented by Rhomberg, the Vorarlberger Illwerk hydro-electric centre of excellence, constructed in the same timber hybrid technology, was inaugurated in Montafon.
The future of building lies in the past
Construction culture in Vorarlberg is characterised by an amalgamation of innovation and tradition. Craftsmen have long known how to make use of weatherproof silver fir, constructive timber protection and cladding with shingles. Their construction technique outlasted even centuries. Impressive proof can be seen in the still existing examples of typical Bregenzerwälderhaus (Bregenz forest houses), standing there since the 17th century.
Holzkapelle Alpe Vordere Niedere; Cukrowicz Nachbaur ArchitektenThose interested in architecture will also get into gear with the offer of individual routes through all of Vorarlberg which, with the Vorarlberg App for holidays and leisure, can be recalled any time, any place. These half-day or all day tours on the topics of "Ortsräume" [locations and spaces], "Holz & Material" [timber & material], "Innovation & Handwerk" [innovation & craftsmanship], "Kunst & Kultur" [art & culture] and "Alt & Neu" [old & new] were conceived by Vorarlberg Tourism and the Vorarlberg Institute for architecture. Individual discoveries and easy travelling at the push of a button!
Our heart beats for wood
Scientific research has shown that staying in timber constructed houses reduces heart rate and that, by means of an equilibrated ratio of temperature and humidity, the room climate
reduces stress for heart and circulation, at the same time being able to increase concentration. "Vorarlberg holzbau_kunst" has been focusing for quite a while on the benefits of timber and was awarded for its initiative in the field of regional value creation "Timber is the construction material of the third millennium. Highest quality in architecture and completion are the tradition of timber construction in Vorarlberg and at the same time a recipe for success in the future."
""Wood reduces the heartbeat: 8600 beats per day" – holzbau_kunst
Since 1997, holzbau_kunst awards the timber construction prize every two years. Amongst last year's winners, the restored Alte Säge (Old Saw) in Bezau which, due to the cleansed and sensitively amended, uninsulated timber bolt works and the open attic, has become a place of communication and cultural events. The "Bauernhof Be-Greifen" [tangible farmhouse] in Egg shone in the category of "innovative timber applications". The generous entrance to the farm is very inviting. A two-storey gallery in light-coloured timber enables insights into farm life, freerange husbandry and cheese production, the element of an in-house cinema being a surprise. Rural building culture is certainly capable of convincing city slickers with innovative spirit, architectural aesthetics and constructive (timber) techniques. Visitors who would also like to rise high in terms of metres above sea level had best visit mountain chapel Alpe Vordere Niedere at a height of 1,600 metres. From Bezau you can take a cable car to Baumgarten and from there a 15 minutes walk to the timber construction award winner 2011. Right at the edge of a deep slope, this timber chapel on rock foundations offers a breath-taking mountain panorama, the silence and calm of which
are only interrupted by paragliders. Here traditional Vorarlberg timber construction meets the introversion of Byzantine sacral buildings. Bathhouses lake Bodensee also look back to a long tradition. The Bathhouse at Kaiserstrand in Lochau convinces not only bathers with its beautiful view of the Pfänderstock-mountain and Bregenz, but also the juries. In 2011 the new design of the building won the timber construction prize with its multi-functional two-storey platform and the design element of timber.
INFO

"Architektouren" (architectural tours)
Various locations, Vorarlberg
www.vorarlberg.travel

Vorarlberger Architektur Institut
Marktstraße 33, 6850 Dornbirn
www.v-a-i.at

vorarlberger holzbau_kunst
Raiffeisenstraße 54, 6713 Ludesch
www.holzbaukunst.at

Werkraum Bregenzerwald
Hof 800, 6866 Andelsbuch
www.werkraum.at