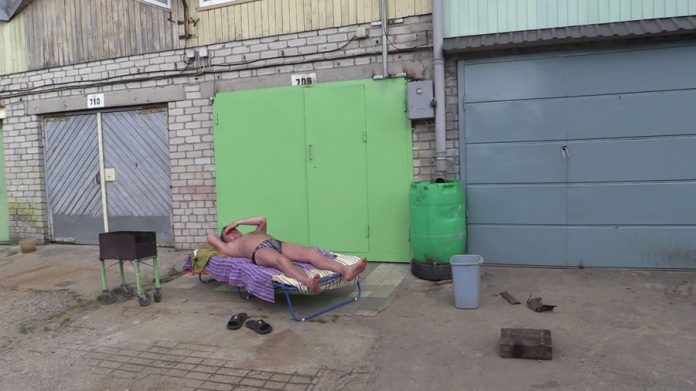 25.04.2017; Ursulinensaal Linz.
Overcoming fears is the focus of this year's Crossing Europe festival.
Film giant Ingmar Bergmann once summed it up as, "There are no limits. Neither for thoughts, nor for feelings. It is fear that always sets the limits." This can also be seen in today's Europe – a fear of strangers, of terror, of social upheaval, etc. that is choking Europe.
Festival Director Christine Dollhofer and her team are holding five opening films against it which all have one thing in common: they do not offer a patent remedy for fear – but at least positive prospects. For example, Lucas Belvaux's fi lm Chez Nous tells the story of a nurse who unsuspectingly stumbles into local politics, is exploited by a right-wing extremist party, and finally frees herself from its grasp.
Tinkering as a Survival Strategy
The Latvian short documentary Garažas / Garages by Katrina Neiburga explores the world of a Latvian garage cooperative. Behind the garage doors one discovers a testosterone-charged microcosm of passionate craftsmen and idiosyncratic inventors whose escape into their hobbies has become a survival strategy in a region that has become economically bleak.
The film is part of a series of programmes on the topic Gender & Space, which was produced by the Architekturforum Oberösterreich for the Crossing Europe Film Festival.
The series explores the question of how the social construct of "gender" influences our perception of space.
Turkish author and filmmaker yesim Ustaoglu is featured in the Spotlight series at this year's Crossing Europe. Her films deal with issues such as female sexuality or the Kurdish- Turkish conflict.
Mystery in Austria
One of the Austrian films premiering at Crossing Europe in 2017 is Viennese filmmaker Lorenz Tröbinger's mystery-thriller Wattmarck, inspired by horror stories of the 20th century. The film focuses on the fictional band "Wattmarck" and fictional company of the same name which develops a new synthesizer that supposedly produces indescribable sounds.
Crossover between film and the visual arts
Linzer photographer Otto Hainzl's multimedia installation is the result of a road trip along the European route E75 from Crete to Norwegian Vardø. Like the roads of this international network, which add up to a total length of 50,000 kilometres connecting Europe, Anatolia, and Central Asia, this European fi lm crosses borders and cultures to connect people and places.
Speaking of Europe, the two festival cinemas Moviemento and City-Kino were counted among the four best cinemas in Europe in 2016 by the Parisian network "Europa Cinemas". Congratulations from CREATIVE AUSTRIA!
INFO
Crossing Europe Filmfestival
25.04. – 30.04.2017
www.crossingeurope.at

Festivaleröffnung
25.04.2017, 18.00
Ursulinensaal, OÖ Kulturquartier

Preisverleihung
29.04.2017, 19.00
Ursulinensaal, OÖ Kulturquartier

Nightline @ OK Deck
mit u.a. Civil Civic, Xiu Xiu und Mavi Phoenix
25.04 – 30.04.2017, jeweils ab 22.00 
OÖ Kulturquartier

Tribute 2017
Filmische Gesamtschau der Arbeiten des
polnischen Künstlerpaares Anka und
Wilhelm Sasnal

Crossing Europe-Filmkollektion bei Flimmit
Zehn Festivalfilme aus den vergangenen Jahren
www.flimmit.com