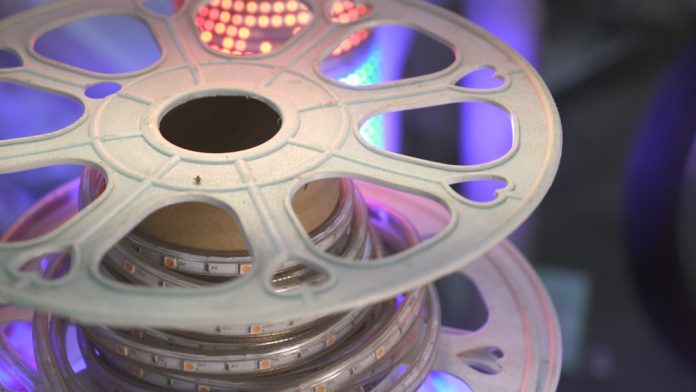 29.03.2017, 14.00 und 30.03.2017, 18.30; Schubertkino.
Salzburg-based filmmaker and artist Marlies Pöschl takes a close look where others are dazzled.
Marlies Pöschl had the idea for her new film Cinema Cristal, which will premiere at this year's Diagonale, while walking through Lalezar Street in Teheran with an architect friend. Today the former cinema mile is lined with lamp stores. After the revolution Iranian cinemas fell into disrepute for being places that spread Western decadence. This is why all cinemas in Lalezar Street had to close.
Pöschl uses the sparkling world of lighting stores as a basis for reflections – both in a literal and in a non-literal sense: "Cinema is like another world" – statements about a place of light and magic spoken into the black screen. Cinematic experiences and memories mix with pictures of thousands of light bulbs and neon lights. Sparkling chandeliers and a sea of lights behind shop windows turn into bright – poetic screens for a story about the past that is no longer visible.
The focus of Marlies Pöschl's works lies on the artistic-documentary exploration of the unknown. Globetrotter Marlies Pöschl knows how to uncover things that one overlooks easily in everyday life and does so in a way that is both brutally honest and affectionate. In one of her first films L'Ecole de Si-mili, for instance, she explores the slang with which migrant children speak their second language, a slang that sets these children apart from their environment.
Contemplating closely from afar.
Pöschl crosses borders between film and art. One example is Fieldwork/Homework, which was presented as part of her video installation Practice 1,2,3,and which shows dance students from Shanghai learning the "wéi wú r zú". This is the dance of the Uighurs', a Muslim minority from the autonomous community of Xinjiang. In this case learning to dance means learning to embody the role of the others. Dancing becomes a continuous process of remembering and repeating. Maybe even an embodied act of commemoration.
Pöschl likes to play with this overlapping and shedding of different layers. She has become one of the most prominent representatives of the widening branch of documentary art.
INFO

Cinema Christal
von Marlies Pöschl
auf der Diagonale'17
Weltpremiere
29.03.2017, 14.00
30.03.2017, 18.30
Schubertkino

www.marliespoeschl.net
www.goldenpixelcoop.com