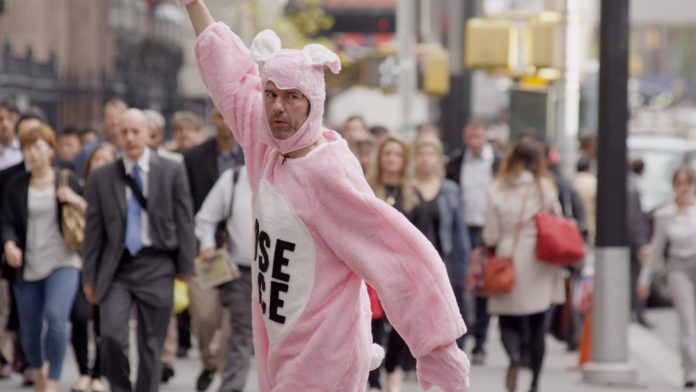 30.03.2017, 13.30; KIZ Royal Graz.
Stefan Sagmeister has turned his pursuit of happiness into a large-scale cinematic self-experiment: The Happy Film.
Sagmeister and his team have been working on this film for seven years. It will be also shown at the Diagonale in Graz.
The graphic designer, who was born in Bregenz, has internationally made a name for himself as a designer of CD covers for the Rolling Stones or Lou Reed. Today he lives mainly in New York where he and Jessica Walsh run a popular studio that develops design works for clients such as Adobe, Snapchat, Pepsi, HBO, The New York Times or the Museum of Modern Art in New York. In spite of the international success, he has never broken off the contact with Vorarlberg, as his works for Zumtobel Light or the Kunsthaus Bregenz show.
Sagmeister, who describes himself as a lover of checklists, has also created a strictly organized frame for his own life: every seven years he goes on a year-long sabbatical and, at the same time, he knows how to turn this fact into a successful feature of the Sagmeister brand. Sagmeister consistently works on his happiness: so consistently that he has made this the subject of several projects. In addition to The Happy Show, an exhibition that also visited the MAK Vienna, he has also finished his debut as a film director The Happy Film now. The film not only deals with the eternal theme of the pursuit of happiness but also offers a platform to the designer Sagmeister by means of playful typography sequences and cleverly used design projects. The main reasons why this experiment is still successful are Sagmeister's self-irony and his ruthless candor.
Vorarlberg: Notoriously unremarkable in terms of design.
Another successful designer from Vorarlberg, who also ended up in New York, is Feldkirch-born Alex Wiederin. He co-designed the look of numerous internationally successful magazines: from ELLE to VOGUE to Tempo. He also founded the "Buero New york" which has evolved into an influential design think-tank for photographers, designers and publishers.
Christoph Nussbaumer, who was born in Dornbirn, ended up in Italy for private reasons. With his team in Novellara, he specialized in industrial design and prototype development, for instance in the area of sports. Practically every winter, the degree of his success becomes apparent when Marcel Hirscher presents his skis on TV. They were designed by Nussbaumer.
INFO
The Happy Film
Auf der Diagonale:
30.03.2017, 13.30
KIZ Royal
www.diagonale.at
www.thehappyfilm.org

Stefan Sagmeister
www.sagmeisterwalsh.com
Alex Wiederin
www.buero-newyork.com
Christoph Nussbaumer
www.nussbaumer.it