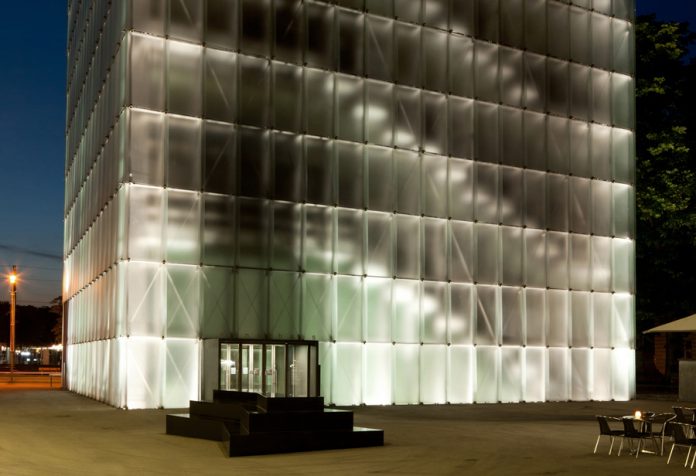 2017; Vorarlberg.
Kunsthaus Bregenz.
20 years of Vorarlbergs horizon expansion: Kunsthaus Bregenz celebrates its anniversary
The art business comes with quite a few sacrifices. When the newspaper with the highest circulation in Vorarlberg, the Vorarlberger Nachrichten – VN in short, decide to take on a prestigious anniversary in Bregenz, the celebrating institution's representatives are showered with irresistible hugs. Kunsthaus Bregenz is turning twenty. This event inspired VN strategists to design an exclusive programme for their readers, which three previous Kunsthaus Bregenz' directors could not evade.
Skiing and après-ski next to the fireplace with Edelbert Köb " … including a snack and accompanying wines." Kaiserschmarren with Yilmaz Dziewor. The VN announcement puts it like this: "During his time in Bregenz some of Yilmaz Dziewor's favourite pastimes were hiking the Pfänder and swimming in Lake Bodensee followed by a stop at a restaurant for a Kaiserschmarren (cut-up pancakes sprinkled with sugar). On the 20th of May a group of participants will accompany him on these activities." Director Thomas D. Trummer seems to have found the most elegant way of getting out of the affair: He will read extracts from James Joyce's Ulysses to a selected group of VN-readers at different places in Feldkirch. "The spots are raffled off."
Kunsthaus Bregenz' international reputation will not be harmed by these treats. Founding director Edelbert Köb always managed to draw internationally renowned art to Bregenz, laying the basis for the institution's international reputation.
It seems to be Kunsthaus Bregenz' extraordinary architectonic features which attract artists and projects that can usually be found only in the artistic world's metropoles. Architect Peter Zumthor has created a minimalistic cube surrounded by a light diffusion skin, a clever receptacle that catches light and guarantees ideal circumstances for exhibitions. No wonder the building won the renowned "Mies van der Rohe Award for European Architecture" immediately after its opening.
That was reason enough for for museum director Thomas D. Trummer to dedicate an exhibition to the architect on Kunsthaus Bregenz' anniversary. This exhibit will provide an insight into Peter Zumthor's world. Prior to that Kunsthaus Bregenz shows a project created by Adrián Villar Rojas, who became famous with his gigantic concrete sculptures and who will turn the building into a "concrete bunker for saving the arts".
Thomas D. Trummer seems to be self-confident on the occasion of the anniversary: "In the summer of 2017 four art projects will attract international attention: Venice-based biennale, the documenta in Kassel, the sculpture projects in Münster and the biennale in Istanbul take place almost simultaneously. Villar Rojas' exhibition in Bregenz will be able to compete with these major events.
INFO

KUB Kunsthaus Bregenz
Programm

Adrián Villar Rojas
13.05. – 27.08. 2017

Jubiläum 20 Jahre KUB
15.07. — 16. 07. 2017

Peter Zumthor
16.09. 2017 — 07.01. 2018

KUB Symposium Eikonomie
28.09. — 29. 09. 2017

kub Billboards Simon Fujiwara
21. 04. 2017 — 07. 01. 2018


www.kunsthaus-bregenz.at