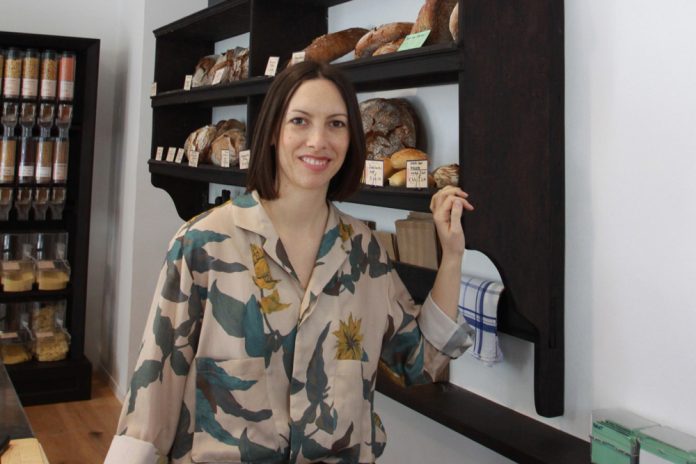 Lunzers grocery by weight – Shopping without packaging waste
With her grocery by weight, Andrea Lunzer has created an organic food shop where customers can buy goods by weight, without generating packaging waste. The regional products from organic sources are all unpackaged. Customers bring their own pots, or take the re-usable glass containers provided in the shop, and buy the exact quantity that they need. This reduces not only packaging waste, but also food waste.
The world's population produces 3.5 million tonnes of rubbish every day. This figure is forecast to double by 2025. People who live in cities are responsible for producing double to four times the amount of rubbish as those who live in the country. On a global level, however, an increasing number of people are living in cities. The western industrial nations in Europe and North America produce the largest quantity of waste. In Germany alone, the amount of packaging waste created rose from 15.5 million tonnes to 17.1 million tonnes per year in the space of just ten years. This has a devastating impact on the ecological system, as the huge rubbish eddies in the oceans are already demonstrating in a dramatic way. Andrea Lunzer, who was born in the federal state of Burgenland, has long been working to reduce packaging waste. After working in different capacities as a corporate consultant on sustainability issues, she opened "Lunzers MaßGrießlerei" ("Lunzer's grocery by weight") in January 2014. This is an organic food shop that does away with packaging entirely and which is pursuing a radically different concept. Since nothing has been pre-portioned, customers can buy exactly the quantity that they need. The shop's structure is reminiscent of the old, traditional groceries. There are no professional shelving systems. Everything is furnished with old, restored furniture designed to remind customers of a time when loose, unpackaged groceries were the norm.
Packaging-free shopping according to weight and need
Here, the customers can either bring along their own containers or use the "Lunzer's glass" available in the shop. All the food offered comes from organic sources. It is also not purchased in an organic wholesale market, but directly from the regional farmers and small producers, with whom the Maß-Greißlerei purchasers are in direct contact. Andrea Lunzer already became interested in renewable resources and sustainability during her time as a student. She gained her first professional experience in organic food at the Hofer-KG organic brand, "Zurück zum Ursprung" ("Back to the origins"), where she was responsible for marketing, communication and packaging.
Re-usable packaging and "coffee to stay" to combat emission levels
Lunzer's work with packaging led her to ask questions about sustainable packaging options. This interest finally resulted in the foundation of "UNFOLD", an initiative for promoting sustainable packaging solutions. Ultimately, however, she wanted to enable consumers to buy goods without packaging entirely, and this resulted in the establishment of Lunzers Maß-Greißlerei.
This revitalisation of the earlier grocery model enables zero waste shopping. The Lunzers Maß-Greißlerei organic shop in the Leopoldstadt district of Vienna is now offering a broad range of products, all of which are organic and most of which come from regional producers. From fruit and vegetables, vinegar and oil, pasta, rice and pulses to body care and cleaning products, 600 organic items can now be bought here entirely without packaging, and weighed down to the last gram. As a result, less unused food is thrown away. The concept is also based on a re-usable glass bottle system. These bottles can be filled 40 to 50 times, saving on raw materials and energy compared to disposable items, and even up to 95% waste. The re-use system also has advantages over the recycling process. On the one hand, only a small amount of the disposable items really are recycled, while on the other, emissions are produced during recycling that do not occur when they are re-used. In addition to the grocery, there's also a café/bistro, which is attempting to extend the concept of sustainability to this business area, too. Here, the basic idea promoted is "coffee to stay". The University of Stuttgart-Hohenheim has calculated that around 58 billion disposable cups are used worldwide every year as a result of the "coffee to go" culture. From an ecological point of view, this is an extremely worrying trend. For this reason, the café area in Lunzers Maß-Greißlerei is trying to create an atmosphere that encourages customers to stay – and in so doing to save resources. There are similar zero-waste sales models in Graz and Linz. In Linz, Franz Seher and his team opened the holis market in September 2015, an all-encompassing holistic shopping concept that not only promotes sustainability and zero waste, but also offers nutritional advice. The market's own food blog also offers healthy recipes. In Graz, "Das Gramm" was opened in the spring of 2016. In the shop run by Verena Kassar and Sarah Reindl, customers shop sustainably and entirely without packaging, with food available by weight, and enjoy seasonal lunch menus in the shop's café.
Andrea Lunzer
founder and owner Lunzers Maß-Greißlerei
www.mass-greisslerei.at