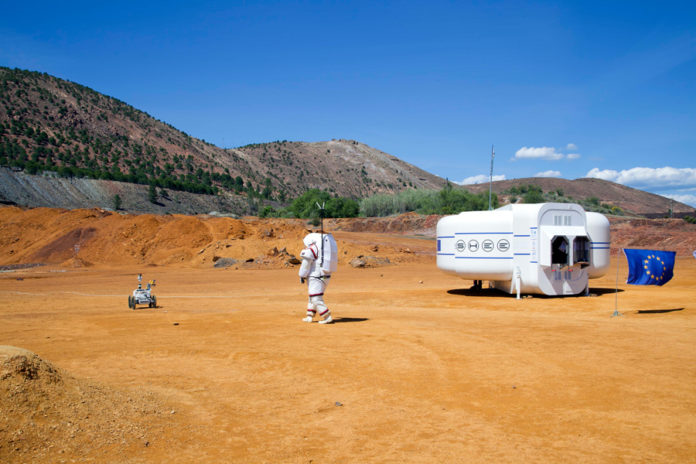 08. – 09.06.2018; Austria.
"Architecture moves" – also in moving images.
Film and moving images can make architecture come alive at
various levels. This is demonstrated by a curated film and lecture
programme on spaceflight, space, electricity and other topics in
accordance with this year's motto "architecture moves". Partner
events take place in different districts of Vienna. For example, the
Streetwalker- open air "ready-made" gallery invites us to a lecture
performance by Kud Ljud, including a guided tour of district no. 9.
A forward-looking departure talk on the call "digital realties" is also
part of the programme.
Open studios, houses and construction sites throughout Salzburg can be visited online via live streaming. Films and discussions over coffee or matinee provide an opportunity to exchange ideas. And the architect Walter Angonese uses not only flattering words in his lecture called "Üble Nachrede" ("Defamation"). Because "architecture moves".
Days of Architecture 2018
08. – 09.06.2018
Various locations
All over Austria
www.architekturtage.at
Events in the districts, sorted by alphabet:
Stinform | Kapuvar (HU). Kurzfilm.
08.06.2018; 19.00 – 19.15; Architekturgalerie Raumburgenland Contemporary, Pfarrgasse 16/1; A-7000 Eisenstadt
Architektur der Erinnerung – Die Denkmäler des Bogdan Bogdanovic. Film.
08.06.2018; 20:00 – 22:00; Architekturgalerie Raumburgenland Contemporary, Pfarrgasse 16/1; A-7000 Eisenstadt
Shopping Center in oder vor der Stadt? Führung
09.06.2018; 10:00 – 11:00; Treffpunkt: Eingang Kinocenter Mattersburg
STADT schauen. Klagenfurt von oben.
08.06.2018; 09.00 – 17.00; Architektur Haus Kärnten, St. Veiter Ring 10, 9020 Klagenfurt
ORTSBEZOGENE KINOS – offener, internationaler Workshop
08.06.2018; 09.00 – 17.00; Alpen-Adria-Universität Klagenfurt, Universitätsstraße 65-67, 9020 Klagenfurt
AUFBAUEND – Filme | ORF-Serie
08.06.2018; 09.00 – 17.00; Architektur Haus Kärnten, St. Veiter Ring 10, 9020 Klagenfurt
DOMENIG STEINHAUS, offenes Haus und Filme | Specials
08.06.2018; 10.00 – 14.00; Uferweg 319552 Steindorf
09.06.2018; 10.00 – 14.00; Uferweg 319552 Steindorf
SPAZIER MIT MIR –Geführte Touren
08.06.2018; 10.00 – 17.30; Architektur Haus Kärnten, St. Veiter Ring 109020 Klagenfurt
FIRE / WATER. Lichtinstallation im Goethepark.
08.06.2018; 21.00; Architektur Haus Kärnten, St. Veiter Ring 109020 Klagenfurt
Zu Gast bei …
… ARCH+MORE ZT GmbH
08.06.2018; 08.00 – 14.00; Dr. Karl Renner Weg 14, 9220 Velden am Wörthersee
… Architektin Eva Rubin
08.06.2018; 10.00; Wohnanlage, Grete-Bittner Strasse 30, 9020 Klagenfurt
… DI Pichorner ZT GmbH
08.06.2018; 10.00 – 17.00; Villacherstr. 79300 St. Veit an der Glan
… Architekt Edgar Egger
08.06.2018; 10.00 – 16.00; Wartburgweg 12, 9020 Klagenfurt
… ARCH+MORE ZT GmbH
08.06.2018; 11.00 – 13.00; Bildungszentrum Guttaring, Silbereggerstraße 5, 9334 Guttaring
Baukunst im Kino. Architektur-FILM-Reihe
08.– 09.06.2018; Kino im Kesselhaus, Dr.-Karl-Dorrek-Straße 30, 3500 Krems
FONTÄNEN Ein Videowalk im Kremser Stadtpark
09.06.2018; 15.00 – Sa, 23.06.2018: 22.00; Galerie Stadtpark, Josef-Wichner-Straße 5, 3500 Krems
Zu Gast bei …
… Architektur-BESUCHS-Reihe
08.– 09.06.2018; Various locations
Architekturfrühling, Haslach an der Mühl "Strömungen"
06.06.2018 – 08.06.2018; Architekturfrühling Haslach, Windgasse 15, 4170 Haslach
Baukultur-Stammtisch #6 in Haslach
06.06.2018, 18:00
Architekturfrühling Haslach, Windgasse 15, 4170 Haslach
Stadt ist mehr, Ried im Innkreis
– Architekturfotografie und Modelle zu "Kunst am Bau"
– Leerstände und Möglichkeitsräume
– Global Shopping Village (Filmprogramm)
08.06.2018 – 09.06.2018; various locations
Ausrangiert, Wels
– architektur bewegt-Filmprogramm in Wels
– Welser Stadtgespräch
– Architektonische Mikrointerventionen
08.06.2018 – 09.06.2018; various locations
Offene Ateliers & Baustellen
08.06.2018 – 09.06.2018; various locations
folgt…
folgt…
folgt…
folgt…
"Über All"
08.06.2018; 15.00 – 17.00; Umspannwerk Favoriten,Humboldtgasse 1-5, 1100 Wien
"völlig losgelöst // verbautes All"
08.06.2018; 15.00 – 18.00; Umspannwerk Favoriten, Humboldtgasse 1-5,1100 Wien
Stadtspaziergang "urbanes Garteln" | GB*mitte
08.06.2018; 16.00 – 18.00; Max-Winter-Platz 23, 1020 Wien
Jane Jacobs meets Seestadt
08.06.2018; 16.00; Treffpunkt: U2-Station Seestadt/Seestadtstraße; 1220 Wien
Sanierung im Gespräch | GB*nord
08.06.2018; 17.00; Treffpunkt Führung mit GB*nord, Am Spitz 11210 Wien
GROSSRAUM WAGEN | GB*west
08.06.2018; 17.00 – 18.30; Gebietsbetreuung Stadterneuerung, Haberlgasse 76, 1160 Wien
departure Talk zum Call "Digitale Realitäten" in der Architektur
08.06.2018; 17.45; Umspannwerk Favoriten, Humboldtgasse 1-5, 1100 Wien
Preisverleihung Kinder- und Jugendfilmwettbewerb zu "Architektur bewegt"
08.06.2018; 17.00; Umspannwerk Favoriten, Humboldtgasse 1-5, 1100 Wien
Vortrag Barbara Imhof: "Alle Welt im Raum"
08.06.2018; 18.30; Umspannwerk Favoriten, Humboldtgasse 1-5, 1100 Wien
Best of HERZBLUT- ein Fest der Architektur
08.06.2018; 19.30; Belvedere 21, Arsenalstraße 1, 1030 Wien
Aljoša Dekleva / Tina Gregorič: Lecture and Video Presentation
08.06.2018; 19.30; Umspannwerk Favoriten, Humboldtgasse 1-5, 1100 Wien
Get together im Büro der ÖGFA
09.06.2018; 10.30 – 15.00; Liechtensteinstr. 46a/2/5, 1090 Wien
THE BEST OF Slovak architecture yearbook 2016/2017 in Bratislava region
09.06.2018; 11.00 – 16.30; Treffpunkt variiert je nach Ort
Streetwalker – "Ready-Made" Galerie im öffentlichen Raum
09.06.2018; 11.00; Liechtensteinstr. 46a/2/5, 1090 Wien
Radtour | GB*ost
09.06.2018; 14.45; Stadtteilmanagement-Büro Sonnwendviertel, Landgutgasse 2-4, 1100 Wien
Dritte Haut | Workshop (6-12)
09.06.2018; 15.00 – 17.00; Az W, Museumsplatz 1, 1070 Wien
Serie: Zu Gast …
… Franz&Sue Geburtstagsfest
07.06.2018; 19.00; Baustelle Architekturcluster am Helmut Zilk Park.
Bloch-Bauer-Promenade 23, 1100 Wien
… Veit Aschenbrenner Architekten ZT GmbH
08.06.2018; Burggasse 52-54/61070 Wien
… Architekt Maximilian Eisenköck
08.06.2018; 09.00 – 17.00; Kaiserstraße 69, Hofgebäude, Top 121070 Wien
… Institut für – gegen Baukultur
08.06.2018; 09.00 – 15.00; Argentinierstraße 39a, 1040 Wien
09.06.2018; 11.00 – 14.00; Argentinierstraße 39a, 1040 Wien
… göbl architektur ZT GmbH
08.06.2018; 09.00 – 17.00; Kaiserstraße 67-69, Hofgebäude, Top 121070 Wien
… Architekturbüro Reinberg ZT GmbH
08.06.2018; 09.00 – 18.00; Lindengasse 39/8, 1070 Wien
… Das T/abor
08.06.2018; 10.00 – 18.00; Taborstraße 51/3, 1020 Wien
… p.good Architekten, Rohbau Wohnhausanlage Lorystrasse
08.06.2018; 12.00 – 15.00; Lorystrasse 97, 1110 Wien
… werkraum ingenieure
08.06.2018; 14.00 – 17.00; Mariahilfer Straße 121b/6, 1060 Wien
… AllesIsstGut – die AllesWirdGut Kantine
08.06.2018; 14.00 – 16.00; Untere Donaustraße 11, 1020 Wien
… 10 JAHRE neustädter + mramor ARCHITEKTEN
08.06.2018; 14.00 – 18.00; Kleine Neugasse 10/12, 1040 Wien
… PPAG architects ztgmbh
08.06.2018; 15.00 – 21.00; Damböckgasse 4/4. Stock1060 Wien
… GABU Heindl Architektur | Selbstverwaltete und solidarische Hauskollektivprojekte
08.06.2018; 15.00 – 17.00; Schottenfeldgasse 72/2/8, 1070 Wien
… Franz&Sue | Baustellenführung im Architekturcluster am Helmut Zilk Park
08.06.2018; 15.00; Bloch-Bauer-Promenade 23, 1100 Wien
… Mautner-Markhof Gründe | Tillner und Willinger
08.06.2018; 17.00; Wilhelm-Weber-Weg 1/3 1110 Wien
… Veit Aschenbrenner Architekten ZT GmbH im Gebauten
09.06.2018; 10.00 – 15.00, Adresse erhält man bei Anmeldung
… Najjar & Najjar Architects
09.06.2018; 11.00 – 17.30; Seidlgasse 41/5a, 1030 Wien
Az W vor Ort: Brutal Sakral
09.06.2018; 14.00 – 18.00; Museumsplatz 1, 1070 Wien
… der freien Musikschule und RAHM architekten
09.06.2018; 15.00 – 18.00; Jesuitensteig 191230 Wien
… kunath trenkwalder ZT OG
09.06.2018; 16.00 – 21.00; Hofgebäude Hernalser Hauptstraße 150-152, 1170 Wien
08. – 09.06.2018
www.architekturtage.at