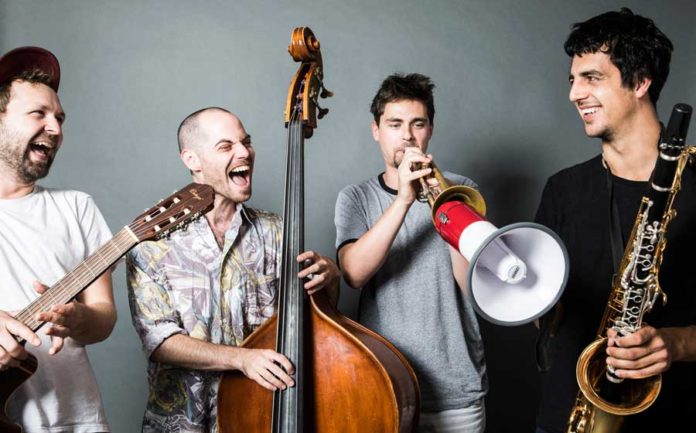 Internationally known artists and promising newcomers to the jazz scene meet in Saalfelden. The sounds of the jazz festival range from soft, sonorous tunes and flowing synth-solos to sharp, raw melodies. The optical highlights are in front of the gigantic mountain backdrop of the "Steinberge", where several important jazz figures are going to perform. The concerts take place both in the open air in the village and on the pastures as well as on different indoor stages.    
Traditionally, the festival begins with free concerts on the City Stage right on the Saalfeld Town Hall Square (Rathausplatz). The sextet Mokoomba from Zimbabwe is the first to rock the stage, followed by the Belgians La Chiva Gantiva.
In the Kunsthaus Nexus, the so-called "ShortCuts" present more experimental and multi-faceted jazz. In addition to others, two Austrian bands, Little Rosies Kindergarten and Synesthetic 4, perform there. Schmied's Puls with Mira Lu Kovacs, Walter Singer and Christian Grobauer also play in the Nexus + series in the Kunsthaus Nexus. The youngest, from the age of four, can be inspired by jazz sounds at the Children's Concert.
The MainStage in Congress Saalfelden brings on Friday as official first Act Ulrich Drechsler "Liminal Zone" on the plan. Traditionally, the opening concert will be awarded to Austrian musicians by the artistic director Mario Steidl from the "Verein Zentrum Zeitgenössische Musik". And Ulrich Drechsler does not come alone, he brings known faces such as singer / songwriter Clara Luzia (vocals), soprano Özlem Bulut and poetry slammer Yasmin Hafedhauf the stage. A large-scale artistic project entitled "Liminal Zone", which promises the prelude to a concert event between jazz, electronic beats and world music.
Optical highlights take place on Saturday and Sunday at three mountain huts Huggenberg, Vorderkühbühelhof and Stöcklalm. Then it's time to lace up hiking boots to experience the free jam sessions of various jazz combos in the imposing mountain scenery of the Steinberge mountains.
Internationales Jazzfestival Saalfelden
23.08. – 26.08.2018
5760 Saalfelden
www.jazzsaalfelden.com
Programm:
Donnerstag
23.08.2018 | 18.30 | Rathausplatz Saalfelden | Mokoomba (Zimbabwe)
23.08.2018 | 20.00 | Rathausplatz Saalfelden | La Chiva Gantiva (Belgien)
23.08.2018 | 21.30 | Nexus ShortCuts | Little Rosies Kindergarten (Österreich)
23.08.2018 | 23.00 | Nexus ShortCuts | Raoul Björkenheim "eCsTaSy"(Finnland)
Freitag
24.08.2018 | 12.30 | Nexus ShortCuts  | Chamber 4 "City of Light"(Frankreich/Portugal)
24.08.2018 | 14.00 | Nexus ShortCuts  | Kuu! "Lampedusa Lullaby" (Serbien, Finnland, Deutschland)
24.08.2018 | 15.30 | Rathausplatz Saalfelden | El Flecha Negra (Chile, Peru, Spanien, Deutschland)
24.08.2018 | 17.00 | Rathausplatz Saalfelden | Malaka Hostel (Chile, Deutschland)
24.08.2018 | 19.00 | Congress Saalfelden | Ulrich Drechsler "Liminal Zone"(Österreich)
24.08.2018 | 20.00 | Nexus+ | Schmied's Puls (Österreich)
24.08.2018 | 20.00 | Nexus Saalfelden | CLUB ANALOG – DJs Swifty & Fresh Herbs (Österreich)
24.08.2018 | 20.30 | Congress Saalfelden | Virta "Hurmos" (Finnland
24.08.2018 | 22.00 | Nexus+ | Three for Silver "The way we burn" (USA)
24.08.2018 | 22.30 | Congress Saalfelden | Marc Ribot "Songs of Resistance"(USA)
24.08.2018 | 23.59 | Congress Saalfelden | Théo Ceccaldi "Freaks" (Frankreich)
25.08.2018 | 01.00 | Nexus+ | Late Night Show: Kokoroko (UK)
Samstag
25.08.2018 | 09.30 | Rathausplatz Saalfelden | Orges & The Ockus-Rockus Band (Albanien, Österreich)
25.08.2018 | 11.00 | Buchhandlung Wirthmiller | Hofmaninger / Schwarz(Österreich)
25.08.2018 | 11.00 | Huggenberg Saalfelden | Fainschmitz (Österreich)
25.08.2018 | 11.00 | Rathausplatz Saalfelden | Branko Galoic & Skakavac Orkestar (Kroatien, Frankreich, USA, Niederlande, Russland, Tschechische Republik)
25.08.2018 | 11.30 | Nexus ShortCuts  | Synesthetic 4 (Österreich)
25.08.2018 | 13.00 | Nexus ShortCuts  | Punkt.vrt.Plastik (Slowenien, Deutschland)
25.08.2018 | 14.30 | Congress Saalfelden | Trio Aïrés (Frankreich)
25.08.2018 | 16.15 | Congress Saalfelden | Schnellertollermeier "Rights"(Schweiz)
25.08.2018 | 18.00 | Congress Saalfelden | A Pride of Lions (USA)
25.08.2018 | 20.00 | Nexus Saalfelden | CLUB ANALOG – DJs Swifty & Fresh Herbs (Österreich)
25.08.2018 | 21.00 | Nexus+ | RasgaRasga (Deutschland)
25.08.2018 | 21.00 | Congress Saalfelden | Nicole Mitchell "Mandorla Awakening II" (USA)
25.08.2018 | 22.45 | Congress Saalfelden | Chansons du Crepuscule: Elliott Sharp & Helene Breschand (USA, Deutschland, Frankreich)
25.08.2018 | 23.00 | Nexus+ | Bomba Titinka "Hot Air Balloon" (Italien)
25.08.2018 | 00.30 | Congress Saalfelden | Shake Stew feat. Shabaka (UK, Österreich, Deutschland)
26.08.2018 | 01.00 | Nexus+ | Late Night Show: Kokoroko (UK)
Sonntag
26.08.2018 | 10.00 | Museum Schloss Ritzen | Paier Valcic Quartett "Cinema Scenes" (Österreich)
26.08.2018 | 11.00 | Stöcklalm Leogang | Die Strottern "Waundsd Woadsd"(Österreich)
26.08.2018 | 11.00 | Vorderkühbühelhof Saalfelden | Dobrek Bistro(Österreich, Polen, Brasilien)
26.08.2018 | 11.00 | Nexus Saalfelden | Pepe & Speedy (Österreich)
26.08.2018 | 13.30 | Congress Saalfelden | Jamie Branch "Fly or Die" (USA)
26.08.2018 | 15.15 | Congress Saalfelden | Kuhn Fu "Chain The Snake"(Deutschland, Israel, Serbien, Türkei)
26.08.2018 | 17.00 | Congress Saalfelden | Thomas Fujiwara "Triple Double"(USA)
26.08.2018 | 19.00 | Congress Saalfelden | Leïla Martial "Baa Box" (Frankreich)
26.08.2018 | 20.30 | Congress Saalfelden | Erik Friedlander's "Throw a Glass"(USA)
26.08.2018 | 22.00 | Nexus+ | Spiritual Unity – Late Night Show mit Überraschungsgästen zur Abschlussparty im Cafe Nexus