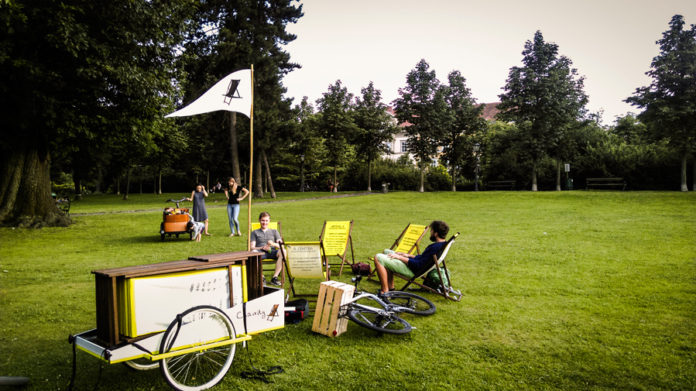 08.06. – -30.09.2018
Conquering free spaces.
Grassroots movement: Summer of Architecture Graz is taking over the town.
A street lab for civil courage, live-in laboratories, parking spaces converted into front gardens, phone boxes receiving a makeover, hard-core gardening, occupations of squares, park conquests, exhibitions, guided tours, excursions: "Architektursommer Graz" defies spatial and intellectual boundaries and conquers the whole city.
This astonishing project started as a grassroots movement from below and has grown into a large-scale transdisciplinary culture project. Such a development wouldn't have been possible without the close cooperation of different institutions, which characterises Graz-based cultural and creative scene.
Projects like Elevate Festival, Designmonat, Lendwirbel, Galerientage, Architekturtage or Steirischer Herbst all have something in common: All of the city's large cultural incentives thrive on the close cooperation between larger and smaller cultural institutions and initiatives. Lone wolves are a thing of the past.
This is how it was possible to launch "Architektursommer Graz" three years ago without noteworthy support from the public authorities. Several dozen partner institutions already contributed to the project the first time round. This year the project makes a giant leap forward: More than a hundred partners have devised more than two hundred projects, which explore, shape and interpret the urban area with an abundance of new ideas and critical examinations.
All of that without any production budget for the individual projects! We have one of the project's main initiators to thank for this little miracle: Markus Bogensberger, head of Graz-based Haus der Architektur, who manages to draw people in with his friendly-appreciative, but also focused manner.
"Graz-based Architektursommer does not have a curator, but that doesn't mean that it is unregulated", says Markus Bogensberger. In fact, one of the project's strength lies precisely in that factor: "This is why the project deals with topics that are virulent in the city at that precise moment". There are no thematic guidelines, but the initiators still take a careful look at the projects' quality and suggest ideas for further development. They also organise meetings, in which they bring together groups from different
cultural and social fields in order to develop joint projects and to design public space together. "This open format enables groups from different genres to come into contact with each other. Otherwise these artists probably would never have worked together", highlights Markus Bogensberger.
Make way! Andräplatz?: Space design as a social process
This also changes architects' and planners' perspectives of the real tasks connected to socially-oriented space development. During some projects free spaces are temporarily rededicated. These experiments have the potential to become self-empowered social redesigns of living spaces. One example is spaceunit.network's project "Platzmachen! Andräplatz?" (Make way! Andräplatz?). Up to now the crossroads next to Andräkirche in quarter Gries is a largely overlooked "non-place" overrun with cars. During Architektursommer it will be cleared of traffic and given to its residents as a social space. Adjacent Andräkirche is well-known due to priest Andreas Gletter – now bishop of Innsbruck – who has turned it into one of modern art's most exciting and most controversial places. Due to this project the church and next-door offices gain new meaning and new social freedom in multicultural quarter Gries.
The varied programme that has been devised for Graz-based Architektursommer can also be seen as a self-appropriation process of the empty spaces left behind by recent Styrian architecture and room development policies. In the 80s a good basis for the so-called "Grazer Schule der Architektur" (Graz-based School of Architecture) was created, partly due to resourceful and quality-based housing policies. Yet on a political level little of this remains. It seems like there is a lack of political partners with a creative drive, who would be interested in establishing a qualitative discourse about room development and architecture. Three years ago Landtag's large-scale building culture survey led to lots of recommendations, which now seem to lie forgotten in their project drawers. Not a single member of the government regarded this survey as important enough to actually be present. Numerous basis initiatives counter this political disinterest with their self-confident, rebellious and playful contributions to Architektursommer Graz.
Architektursommer Graz
08.06. – 30.09.2018
www.architektursommer.at