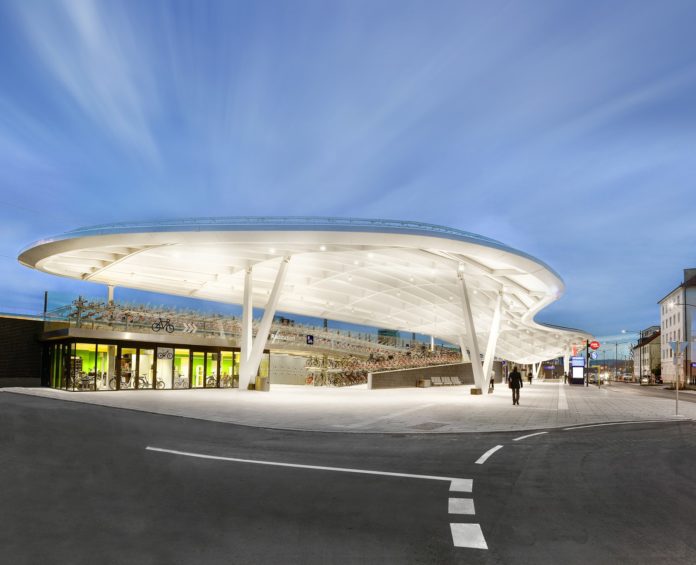 An architectural train is moving through Salzburg
A number of internationally acclaimed architectural projects have been carried out in Salzburg-based Bahnhofsviertel in recent years. One of the aims was to heal architectural wounds from the post-war period: An architectural stroll.
During the Second World War large parts of the area around Salzburg's main station were destroyed. Due to the housing shortage after the war lots of buildings were constructed quickly and inexpensively in this area. City planning and urban development were of minor importance compared to all the other essential problems that had to be solved. For this reason some parts of this quarter lacked charm. But in the last couple of decades this image changed radically. The railways initiated this dynamic reorganisation process.
The first important boost for these changes came from architect's office Schürmann, which won an international architecture competition for the quarter's redesign at the end of the 80s. This competition led to a fundamental reorganisation of the large area around the main station and its functions. A beech grove was planted in strict rows as a "visual filter" to the post-war buildings in the West. The platforms of the elegant local train station designed by Joachim Schürmann were placed below ground in order to have enough space for the new design.
The main train station itself was completely renovated a few years ago. Architect's office kadawittfeldarchitektur was asked to plan the new space. Their unique design manages to link the building's historical parts, like the art nouveau reception hall from 1909, with the demands of modern traffic. A newly built passage now acts as the central access structure, enabling barrier-free connection to district Schallmoos. The train station's prominent roofs follow the curved tracks and have been delicately adapted to the historical surroundings, uniting to form a single roof over the tracks.
The entrance to the main train station has given quarter Schallmoos a completely new look. The 120 meter long and up to 25 meter wide parabolically curved roof creates a self-confidently shaped open space, which puts the surrounding buildings into a completely new framework. The roof, which is open to all sides, therefore becomes an attractive link between the two quarters, which are separated by the train tracks.
But not only Salzburg-based Bahnhofsviertel has been updated in the last few years. In the South West of the city a number of notable architectural projects have been carried out: "Panzerhalle" on the grounds of former Struberkaserne (military barracks) in Maxglan, for instance, has been revitalised and redesigned. Now Coworking spaces, event halls and a market hall with delicatessen and catering can be found in this building. Thus "Panzerhalle" has becme the hub of the quarter's emerging creative scene. This space was designed by architect's offices LP architektur, hobby a. schuster & maul, cs-architektur & strobl architekten. In 2016 they received Architekturpreis Salzburg's Recognition Award for their concept.
"Freiraum Maxglan's" housings are located right next to this area, turning this quarter into a highly attractive place of residence and work. Architect's offices kadawittfeldarchitektur and Schwarzenbacher Struber Architekten designed a new living space around a few selected neighbourhoods. The buildings have been arranged in groups, between which there are open spaces for public and private lawns, gardens, parks and terraces. A kindergarten and a supermarket are located within walking distance of the houses. The design of this car-free community is rounded off with a concept for sustainable mobility that includes car-sharing spaces, e-bikes and links to large cycle paths and public transport.
"Initiative architektur salzburg" offers guided tours on different architectural topics, which have to be booked in advance. Visitors get to see interesting quarters from Bahnhofsviertel and "Freiraum Maxglan" to recently modernised Lehen and the city centre itself from an architectural perspective.
Modern percent for art programmes have been carried out at many of Salzburg's architectural objects. The online architectural guide "archtour-stadt-salzburg.at" contains ideas for self-discovery tours of ongoing construction projects and percent for art programmes.