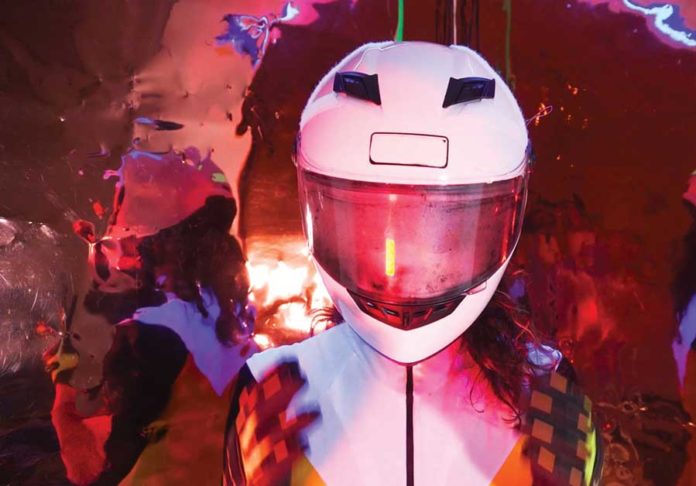 04.10. – 07.10.2018; Graz.
the musikprotokoll at the festival steirischer herbst is Austrias laboratory for contemporary and experimental music that is docking on utopian fronts.
"Utopian Fronts" in contemporary music. The programme of this year's musikprotokoll which is directed by Elke Tschaikner brings numerous "visionaries" of contemporary music to Graz once again: a chance of encounter with utopian free spaces in music.
musikprotokoll 2018
04.10. – 07.10.2018
musikprotokoll.orf.at
Programm 2018
The Magma
22.09 – 07.10.2018 | Akademie Graz | The Magma | mit Ahmed El Ghazoly aka ZULI | Installation, Österreichische Erstaufführung
06.10.2018 | 16.00 | Akademie Graz | Neue Musik aus Ägypten | mit Ahmed El Ghazoly aka ZULI | Diskussion
konfrontationen 7
04.10.2018 | 16.00 | Helmut List Halle | konfrontationen 7 | mit SchülerInnen aus der Steiermark | Konzert, Performance, Uraufführung
Palimpsest
04.10.2018 | 18.30 | esc medien kunst labor | Palimpsest | von Kathy Hinde & Daniel Skoglund | Performance, Österr. Erstaufführung
06.10.2018 | 13.00 | esc medien kunst labor | Turn Drawings into Sound | von Kathy Hinde & Daniel Skoglund | Workshop
22.09 – 16.11.2018 | esc medien kunst labor | Distant Skies: Pressure Waves | von Kathy Hinde & Daniel Skoglund | Installation, Österr. Erstaufführung
SOL
04.10.2018 | 19.30 | Dom im Berg | SOL / Konzert | Kurt Hentschläger | Konzert
05.10.2018 | 13.00 | FH Joanneum, Institut für Design und Kommunikation, Raum 401 | Splendid Voids | Kurt Hentschläger | Diskussion
04.10 – 07.10.2018 | 10.00 – 19.00 | Dom im Berg | SOL | Kurt Hentschläger | Installation
Fred Frith & Bérangère Maximin
04.10.2018 | 21.00 | Dom im Berg | Fred Frith & Bérangère Maximin | Fred Frith & Bérangère Maximin | Konzert, Österr. Erstaufführung
05.10.2018 | 10.00 | MUMUTH | on experimenting | Fred Frith & Bérangère Maximin, Chaya Czernowin, Deniz Peters, u.a. | Diskussion
Gosheven
04.10.2018 | 21.00 | Dom im Berg | Gosheven | Gosheven | Konzert
Tomoko Sauvage
05.10.2018 | 18.30 | Helmut List Halle | Tomoko Sauvage | Tomoko Sauvage | Konzert
RSO Wien & Klangforum Wien
05.10.2018 | 19.30 | Helmut List Halle | Murales | RSO Wien & Klangforum Wien, Bernd Richard Deutsch | Konzert, Uraufführung
05.10.2018 | 19.30 | Helmut List Halle | virus | RSO Wien & Klangforum Wien, Marko Nikodijevic | Konzert, Uraufführung
Klangforum Wien
05.10.2018 | 21.00 | Helmut List Halle | Houses | Klangforum Wien, Jeff Weston | Konzert, Uraufführung
05.10.2018 | 21.00 | Helmut List Halle | Woulda, Coulda, Shoulda | Klangforum Wien, Fred Frith | Konzert
05.10.2018 | 21.00 | Helmut List Halle | Kurzzeit | Klangforum Wien, Friedrich Cerha | Konzert, Uraufführung
05.10.2018 | 21.00 | Helmut List Halle | Knights of the strange | Klangforum Wien, Chaya Czernowin | Konzert
05.10.2018 | 13.00 | Palais Meran, Florentinersaal | Artist Talk/Keynote: Chaya Czernowin | Chaya Czernowin | Konzert
Konus Quartett
05.10.2018 | 22.00 | Helmut List Halle | Haunted House | Konus Quartett, Martin Brandlmayr | Konzert, Österr. Erstaufführung
05.10.2018 | 22.00 | Helmut List Halle | During a Lifetime | Konus Quartett, Chiyoko Szlavnics | Konzert, Österr. Erstaufführung
ensemble zeitfluss
06.10.2018 | 18.30 | Helmut List Halle | like little … sunderings | Ensemble Zeitfluss, Joanna Wozny | Konzert
06.10.2018 | 18.30 | Helmut List Halle | die heilige Clara und der schwarze Fisch | Ensemble Zeitfluss, Klaus Lang | Konzert
06.10.2018 | 18.30 | Helmut List Halle | Catalogue des Arts et Métiers | Ensemble Zeitfluss, Christoph Renhart | Konzert, Uraufführung
The Dwarfs of East Agouza
06.10.2018 | 22.00 | Dom im Berg | The Dwarfs of East Agouza | The Dwarfs Of East Agouza | Konzert
06.10.2018 | 21.00 | Dom im Berg | ZULI | Guts'N'Faders, ZULI | Konzert
07.10.2018 | 16.00 | Hotel Wiesler | El nombre del lugar en donde se encuentra la vida | Ensemble Airborne Extended, Juan Pablo Trad Hasbun | Konzert, Uraufführung
"Land der Musik" – ein Neujahrskonzert
07.10.2018 | 19.30 | Helmut List Halle | "Land der Musik" – ein Neujahrskonzert | Christian Von Borries | Konzert, Uraufführung
07.10.2018 | 21.00 | Helmut List Halle | Christian von Borries im Gespräch mit Andreas Dzialocha | Christian Von Borries | Konzert
KünstlerInnen 2018
Kathy Hinde & Daniel Skoglund | Ahmed El Ghazoly aka ZULI | Kurt Hentschläger | Fred Frith & Bérangère Maximin | Tomoko Sauvage | Schüler/Innen Aus Der Steiermark | Gosheven | Friedrich Cerha  | Marko Nikodijevic  | RSO Wien & Klangforum Wien | Chaya Czernowin | Martin Brandlmayr | Jeff Weston  | Konus Quartett | Joanna Wozny | Chiyoko Szlavnics | Klaus Lang | Christoph Renhart | Ensemble Zeitfluss | Talea Ensemble | Gérard Grisey | William Daugherty | Juan Pablo Trad Hasbun | Georg Friedrich Haas | Zosha Di Castri | Guts'N'Faders | Orestis Toufektsis | Stepha Schweiger | Martin Ritter | Jinwook Jung | Reinhold Schinwald | Lorenzo Troiani | Ensemble Airborne Extended | The Dwarfs Of East Agouza / Soyeon Park / Milica Vujadinovic / Christian Von Borries / Alyssa Aska / Jacqueline George / Recreation – Grosses Orchester Graz