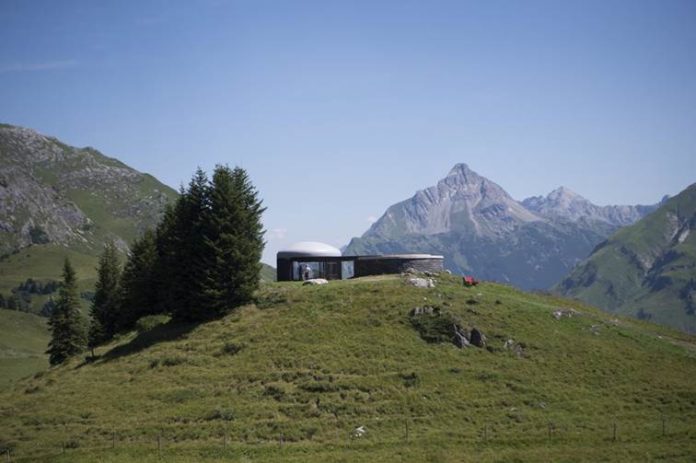 17.09.2018; Vorarlberg.
Holes in the sky
. How can light be manipulated?
How can light be manipulated? This question has occupied American light artist James Turrell for decades. He is currently installing one of his much-acclaimed Lightrooms on the Arlberg: the "Skyspace-Lech".
Ski athletes, nature lovers, and tourists. This is what one usually finds in the popular winter sports area Lech am Arlberg. However, on Tannegg Hill, light artist James Turrell leaves a special footprint: the Skyspace-Lech. After Anthony Gormley, who caused a sensation in 2010 with his hundred cast-iron, life-size human figures along the Alps, Turrell is the second international artist to realize his project in the Arlberg region. Initiated by the "Horizon Field" art association named after Gormley's project, a light experience space is being created here in cooperation with the Galerie Häusler Contemporary at an altitude of almost 1780 meters that will offer visitors a unique visual and spiritual experience.
An underground passageway leads to the main room of the light experience site, which is covered with a moving dome and offers a clear view of the sky. Depending on the weather and light, the oval opening provides different perceptual effects. Here sky and light merge; space and time become one. At sundown the construction unfolds its full effect: the walls and ceiling are bathed in constantly changing coloured light and through the opening the line between the room and the sky blurs.
"I also build infinite spaces, but for that I need the sky"
James Turrell focuses on how we perceive our environment. The oeuvre of the artist, born in Los Angeles in 1943, is the "Roden Crater" in the desert of Arizona; an extinct volcano where he has been steadily building for more than 40 years to create tunnels, underground spaces, and openings to the sky to create an immense light art project. He dedicates his life to the experience of light on a new level. "We seem not to be aware that we ourselves consign the sky its colour," he says.
The experience of light requires time, calm, and deceleration. A good forty minutes should be planned for the light experience, but who will take the time? For some it might be all too tempting to make a quick detour to Skyspace and then to simply head off to the next chalet.
Turell's art brings deceleration into a fast-paced time and hones our understanding of what we could perceive with our senses – if only we would take the time …
Skyspace-Lech
Lech am Arlberg
Die Lichterfahrungsstätte von James Turrell
Eröffnung 17.09.2018
www.skyspace-lech.com