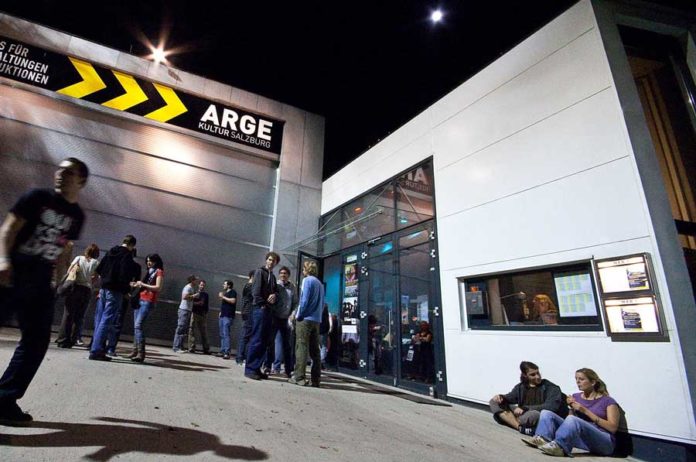 Autonomy and diversity in cultural area Nonntal. Salzburg.
Those were the days: When ARGEkultur in Salzburg was formed at the beginning of the 1980s it was still possible to rub against high culture and enjoy it. About fifty cultural initiatives united to form a protest movement against the dominance of "Festspielkultur" of the established Salzburg Festival and to demand that the free cultural scene get its own production space.
Their demonstrations finally made an impact on the political scene and in the mid-80s they were offered the former HTL apprentice building yard in Nonntal as an autonomously administered cultural area. This constituted a milestone in the development of Salzburg-based free cultural scene: For the first time the city's formerly scattered and dispersed free scene had a fixed centre. This also gave them the opportunity to root their work in the general public's awareness.
The buildings were quite run-down even then, giving the area the flair of a lively alternative scene. Improvisation was part of daily life there. Blackouts and other smaller and larger technical problems occurred regularly. But the existence of this cultural area was still very important for the initiatives from various genres that were assembled there, helping them to professionalise their work step by step.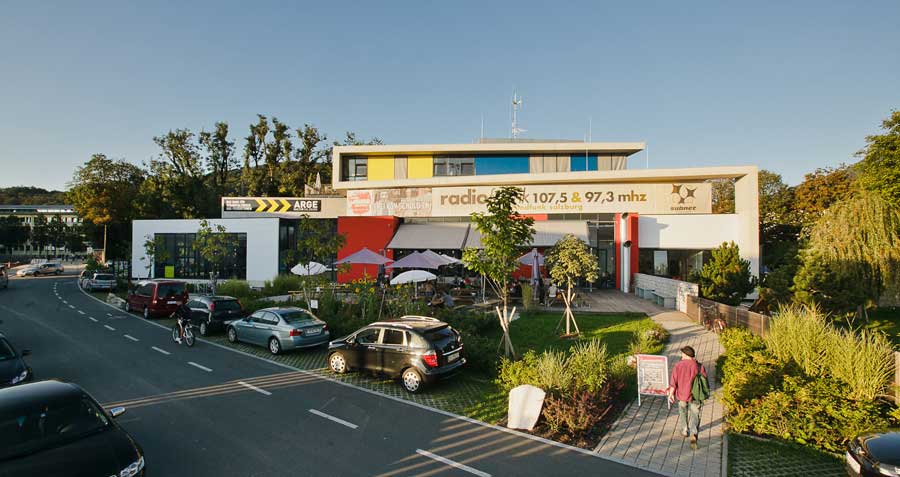 Soon the demand for a truly professional building rose. At the end of the 90s Land and Stadt Salzburg were ready to finance the construction of a new building on the basis of the newly devised plan for cultural sites. This project was embedded in a larger concept for the development of Nonntal's urban area, which also included the construction of university buildings and sports venues. An architecture competition for designing ARGEkultur's new building was organised and architecture team Gerhard Kopeinig and Gerhard Kresitschnig won this competition.
The new building was finished in 2005 and also provided plenty of space for private public radio "Radiofabrik'" studios, which had previously been located in containers on the old ARGE area. Nowadays a dozen free cultural initiatives come and go or have moved in permanently. This includes choreographing platform tanz_house, platform for media art Subnet and theatre club ecce. The mix of cultural associations and free media in the same place has given rise to a critical counter public sphere in Salzburg. Radiofabrik's programme alone is compiled by about three hundred programme planners from very diverse cultures and milieus, says programming director Eva Schmidhuber. Shows are not only emitted in German, but in a large number of languages spoken by the minorities that live in Salzburg. From Farsi to Spanish, from French and English to Pashtu and Urdu.
ARGEkultur's umbrella association serves a double function. On the one hand it provides a joint platform for all autonomous cultural initiatives, which can use the building for their own work. On the other hand it also acts as an organiser, ensuring continuous performances and programmes. Nowadays more than three hundred events take place in ARGEkultur's building each year. In addition to several events series of diverse genres, ARGEkultur has been organising OPEN MIND festival in November for ten years now.
In order to have some money left over for more experimental art, ARGEkultur has also started to host events with which one can make such profit contributions. This is part of the reason why ARGEkultur has recently started to host local comedy events on a regular basis. This attracts a type of visitor who might otherwise not come.
As the university buildings are located in the immediate vicinity, lots of students also come to ARGEkultur's house, or at least to ARGE Beisl with its cosy courtyard dining area. ARGEkultur is also taking on more and more social tasks and functions in the renovated urban area of Nonntal, which offers lots of green spaces and open areas for recreation: nursery and kindergarten included. One cannot deny that the formerly wild protest scene is becoming somewhat more bourgeois.
Therefore, director of ARGEkultur Daniela Gmachl hopes that in the future it will be possible to allow for a continuous generational change of the people and groups working in the building.
Marius Schebella agrees with this. The chairman of association subnet, which carries out media projects and explores the cultural and social implications of digital technologies, states that "Letting in fresh air is always important." Marius Schebella also underlines how important ARGEkultur is for the Salzburg-based free scene: "In a small city like Salzburg cooperation is essential," he states "and ARGEkultur provides an important platform for this cooperation."
On the directing level of ARGEkultur this desired generational change happened a short time ago: Sebastian Linz became the new programme director and is responsible for planning OPEN MIND FESTIVAL's programme for the first time this year. Under the motto WHAT´S LEFT / WHAT´S RIGHT the festival explores the confusing movement of diverse political and social interests, which can't really be categorised into left-wing and right-wing anymore.
ARGEkultur
Ulrike-Gschwandtner-Straße 5
5020 Salzburg
www.argekultur.at

Dated: August 2018