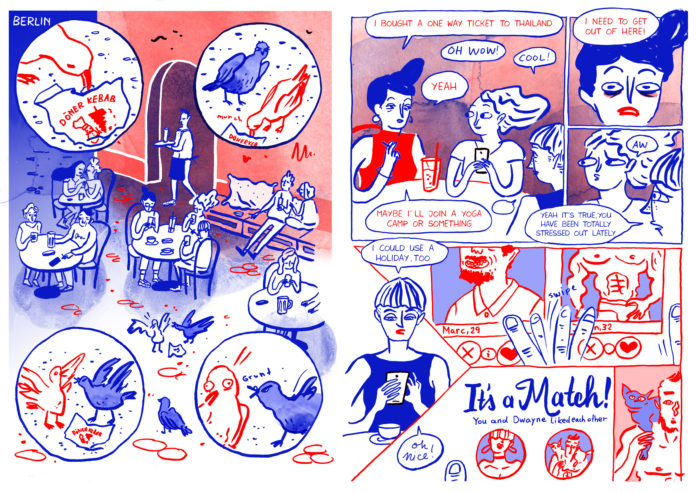 14.3. – 23.03.2019; Linz
Next stop Linz. The Nextcomic Festival celebrates its 10th birthday.
The festival annually presents national and international comic book positions in Linz. Nowadays, comics are far more than "just" drawings, in the context of contemporary art they are seen as an interface to satirical drawing, film, photography, literature and music. The festival theme "next stop linz" tells about the journey of comics. This year's exhibitions, events and comics deal with the inspiration of travelling.
The Suuuper Sonntag revolves around the theme of comics, with lectures, workshops and artists who draw live and sign books, sales desks and children's workshops, where the young audience can try out.
As every year, there will be another Nextcomic Nightline.
The diverse program goes from music, Reinhard Kleist presents the graphic novel "Nick Cave" with the Nick Cover Band "mp4live", about socio-critical comic, for example with the Turkish cartoonist and taboo-breaking painter, author and feminist Ramize Erer, up to the Landesgalerie.
In a cooperation of Nextcomic with the Landesgalerie Linz, Kubin's novel "the other side" is presented in combination with comic art. In addition to the contemporary works of the eight artists, of course, original works by Kubin can also be seen.
The little ones will be pampered with a complementary children's program, be it on Suuupersonntag with workshops, at the family tours in the Landesgalerie Linz, in the ARS Electronica, at the GAUDIMAX playground, or in the Papiermachermuseum Steyrermühl.
NEXTCOMIC Festival
14.3. – 23.03.2019
Linz // Traun // Steyr // Steyrermühl
Festival Center: Upper Austria Kulturquartier
OK place 1
4020 Linz
www.nextcomic.org