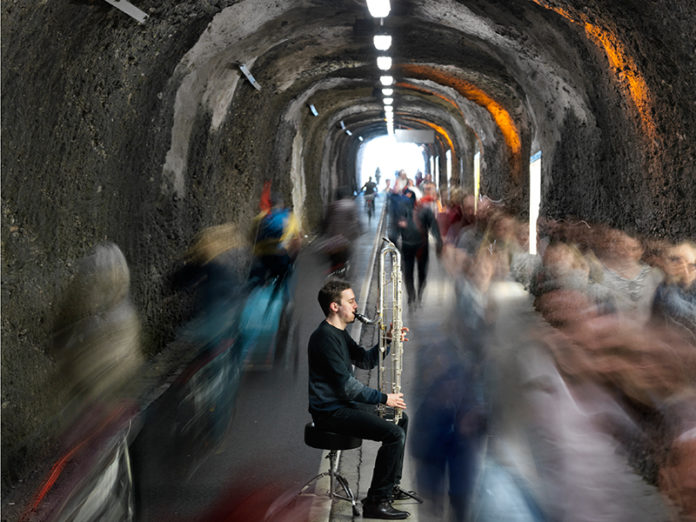 17.06. – 29.06.2019; Salzburg.
City in the flow of time. The Salzburg summer scene explores changes in public space.
Under the direction of Angela Glechner open spaces have become increasingly more important in Sommerszene Salzburg's programme. Not only the festival, but also the city itself benefits from this approach. The artists and their projects focus mostly on zones off the city's tourist-beaten tracks. Artists like Willi Dorner, with whom Angela Glechner has already worked together many times, look for a city's undiscovered corners. "We want to see Salzburg's rougher side," says Angela Glechner. In recent years Sommerszene festival has explored the whole city, from "Kommunalfriedhof" and "Bahnhofsviertel" to the streets of Lehen with their residential buildings from the 70s. Because real life in Salzburg takes place outside of Getreidegasse. "Nonntal or "Andrä-Viertel" with its farmer's market are Salzburg's real urban spaces," says Angela Glechner. "One only has to go to Salzburg's city centre after 6 p.m. There's not much going on there after closing time."
For Angela Glechner the city's compactness is an important advantage when it comes to carrying out projects in public spaces. "When we use public space in Salzburg no one can pass by without noticing," she says. This also makes it possible to carry out projects that work with partly imperceptible overtones and displacements, like Ingri Fiksdal's "Diorama Salzburg". This performance installation uses almost indiscernible changes in order to detach people's perception of Salzburg's "Bahnhofsvorplatz" and its locals from everyday life.
24 Hours- the Rhythm of a City
Theatre group "ohnetitel" invites visitors to take part in a six-day odyssey through Salzburg. Inspired by a world classic, namely James Joyce's Ulysses, the group has created an episodic wandering into the city's inner part. Their project is called "Die Späte der Stunde" (At this Late Hour). In a series of different places the audience will encounter artistic miniatures, which engage in discourses with "experts of daily life": Not unlike its literary inspiration, this project makes the versatility of life in a city tangible using a daily schedule, like an eloquent search machine. 24 episodes in 24 places and 6 days provide the framework for this theatre performance: A very special story-telling exploration of Salzburg.
Marco Döttlinger's sound installation "Euch sprechen die Steine" (The Stones Speak to You) also transforms a public space that is important for the city of Salzburg: Neutortunnel connects busy "Festspielbezirk" with quiet residential areas on the other side of Mönchberg. Composer and sound artist Marco Döttlinger has chosen this "walk-through space" for his sound installation: Above the tunnel portal from 1765 there is a portrait of former Prince Bishop Sigismund Graf Schrattenbach with the Latin inscription "Es sprechen die Steine." (The stones speak.). Marco Döttlinger's sound installation democratises this gesture of domination carved in stone. In the pedestrians' and cyclists' tunnel the acoustic footprints of the people who pass through this tunnel each day are turned into a sound installation. His work of art is not dedicated to the city's former ruler, but to the people of Salzburg themselves.
Once again Sommerszene Salzburg offers a densely packed, vibrant programme with lots of performing art: Over the course of 13 days 5 world premieres and 4 Austrian premieres will take place. Guests include artists and groups like "Forced Entertainment", Jan Martens, Lisi Estaras and Louis Vanhaverbeke.
Sommerszene 19
International Performing Arts Festival
17.06. – 29.06.2019
Various locations
Salzburg
www.szene-salzburg.net