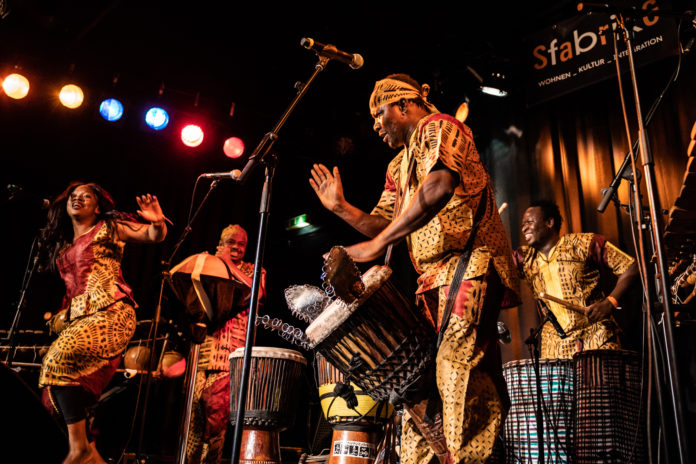 18.07.2019 – 10.08.2019; Graz
This is what summer sounds like in Graz! World music at Mariahilferplatz.
Klezmer meets Jazz & Funk, Africa is just around the corner and salsa represents the attitude towards life that pervades the cultural summer in Graz.The Murszene Festival reflects the coexistence of cultures and generations with a colourful array of music.
Eastern European vibes spread the "Trio Balkan Strings", with instrumental music and Balkan elements. The members of the "Asaran Earth Trio" come from the most different corners of the world and combine folk elements with collective improvisation. Irish music is played by the group "Ciunas", Helmut Thalbauer plays jazz from Austria with his "Finest Blends" and many other musicians make the Mariahilferplatz vibrate.
African singer Louis Sanou and Les Cinq Frères will kick off the Mur scene. At their concerts they mix traditional African music from Burkina Faso with various modern musical styles.
murSZENE
18.07. – 10.08.2019
Mariahilferplatz
8020 Graz
www.murszene-graz.at
Louis Sanou und Les Cinq Frère
18.07.
Asaran Earth Trio
19.07.
Balkan String Trio
20.07.
Patrick Dunst Tribal Dialects
25.07.
Ciunas
26.07.
Helmut Thalbauer`s Finest Blend
27.07.
Broadlahn
01.08.
KH. Miklin: Jazz via Brasil
02.08.
Sigi Finkel African Adventure
03.08.
THE BLUES MESSENGERS feat. MARTIN GASSELSBERGER
08.08.
crossfiedlerBlech
09.08.
Ismael Barrios Salsa Explosion
10.08.