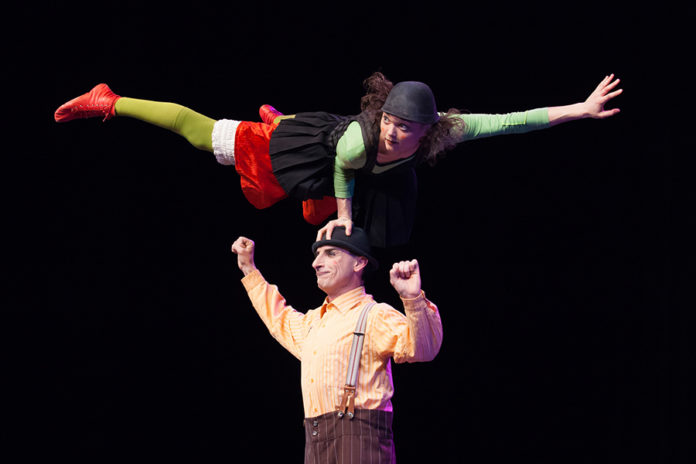 21.12.2019 – 05.01.2020; Graz.
Hearts beat faster than acrobats fly and the desire for
discovery is overwhelming: it's Cirque Noël time!
Around Christmas there are three productions to be seen at Cirque Noël: The 7 Fingers "Passagers", the Compagnia Baccalà "Pss Pss" and Cirkus Younak.
When they come to Graz, it's almost a home game for Compagnie The 7 Fingers: For many years, the Canadians have been among the most popular participants of La Strada and are celebrated enthusiastically by their local audience. At the openings in the opera as well as at Cirque Noël. Since 2002, the now almost 40-member collective has been constantly redefining what modern circus is.
It is not exaggerating to say that with "Pss Pss" a little legend in the matter of New Circus comes to Graz. Because the Compagnia Baccalà with its poetic declaration of love to the era of silent movies in the past 15 years not only enthused their audiences over 600 times in more than 50 countries, but also won pretty much every prize you can win in their genre. Without words at all, but full of poetry, the two modern clowns captivate their audience with a timeless performance full of physical intensity, loud and quiet humour, acting expression, acrobatic skill – and endless artistic mishaps. They make sure that their audience has something to laugh about even when the curtain has long since fallen.
Cirkus Younak deals with the emotions behind life stories like Juraj Jánošíks', who, as a kind of Slovak Robin Hood, stole from the rich and gave to the poor over 300 years ago. And he never betrayed his own even under torture. These emotions are the striving for freedom and justice, but also wealth and fame; love, guilt and punishment, which are thematized acrobatically, loudly and also full of wit.
CIRQUE NOËL – Die Zirkusgeschichten in Graz 2019
21.12.2019 – 05.01.2020
Graz Stadthalle und Orpheum
www.cirque-noel.at