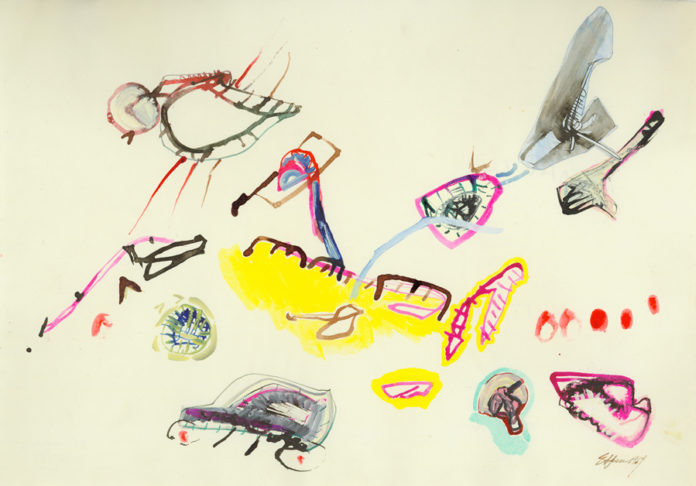 16.11.2019 – 16.02.2020; Vienna.
The American artist of German origin became a myth through her art and biography. This exhibition presents rarely seen works from the Allen Memorial Art Museum in Ohio.
Eva Hesse (1936 – 1970) was regarded as a promising artist of her time. The exhibition shows a choice of works by the artist and her sketches, diaries, letters and photographs. On display are works on paper from the extensive holdings of the Allen Memorial Art Museum at Oberlin College, Ohio, where Hesse's archive is located as well. From early figurative studies to abstract-expressive "scribbles" and suggestive-erotic diagrams to sketches for sculptures.
The artist tried to elude classification and consciously searched for the "not yet known, thought, seen and touched". Pencil and crayon drawings, ballpoint pens, felt-tip pens and ink drawings, gouaches and watercolours, collages and photograms – just a list of the techniques used demonstrates how varied the artist worked on and with paper. Supplemented by sketches and notes on the sculptures of the late 1960s, the exhibition shows the singular role that drawing plays in Hesse's artistic practice. Crossing disciplines and materials, the line – as writing, as thread, as cord, as wire, as knotted and woven – runs through the entire work of the artist and connects what art history has often wrongly separated.
The tragic story of the artist, who died of a brain tumor, had fled as a Jewish family from Nazi-occupied Germany, her mother's suicide and her entangled emotions enhanced the myth surrounding her art.
Curated by Manuela Ammer and Barry Rosen.
Mumok Wien
16.11.2019 – 16.02.2020
Museumsplatz 1
1070 Wien
www.mumok.at