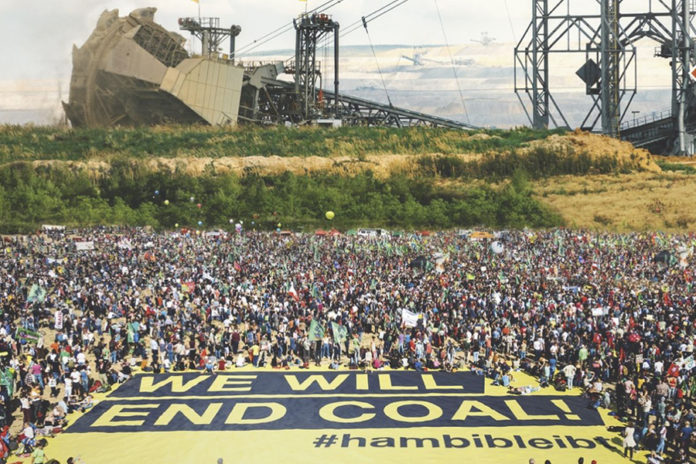 24.10.2019 – 03.11.2019; Graz.
We will be surprised about what is possible – so that everyone has a good life!
The Crossroads Festival invites the public to take a concious look at decisive developments of today. In addition to current challenges, a range of exciting new documentaries screens people, initiatives and movements committed to the preservation of our livelihoods and social achievements thus striving for a good life for all.
Stories will be told through impressive pictures showing ways to take action and inspiring courage.
From 24 to 27 October 2019, the "Ways out of the Climate Crisis – Conference on Climate Justice and System Change" will take place as part of the festival. Many exciting speakers will discuss with a broad audience how the further escalation of the climate crisis can be counteracted by joining forces.
Crossroads – Festival für Dokumentarfilm und Diskurs
24.10.2019 – 03.11.2019
Forum Stadtpark
Stadtpark 1
8010 Graz
www.crossroad-festival.org
– Extinction is Forever! (28.10.)
– Animal Liberation (29.10.)
– Feminism in Action (30.10.)
– Umkämpfte Demokratie – Democracy at Stake (31.10.)
– Solidarität statt Festung Europa – Solidarity instead of Fortress Europe (1.-3.11.)
Speakers:
Erwin Wagenhofer (director of We feed the world, Alphabet, etc.), Daiara Tukano (Indigene Activist from the Amazon region), Roger Hallam (Co-founder of Extinction Rebellion), Filimon Mebrhatom (Teenage refugee from Eritrea), Ugochi Oluigbo (environmental journalist from Nigeria), Benedikt Funke (sea rescuer, former captain of the Iuventa), Jana Boltersdorf (Fridays For Future Cologne), Rupert Read (University of East Anglia), Christian Zeller (Professor for economic geography, University of Salzburg), Khali (Free the Soil), Nidžara Ahmetaševic (Journalist, Are You Syrious?), Katharina Rogenhofer (Climate referendum), Wolfgang Rehm (Anti-Hainburg-Activist), Lena Schilling (Fridays For Future Vienna), Tina Velo (Sand im Getriebe), Lucia Steinwender (System Change, not Climate Change), Adam Pawloff (Greenpeace), Ulli Klein (women organic farmer), Franziskus Forster (La Via Campesina, Farmers For Future), John Jordan (Artist and Activist, La ZAD), Matthias Schmelzer (Institut for Sociology, University of Jena), Heinz Högelsberger & Mathias Krams (Institute for Political Siences, University of Vienna), Brigitte Kratzwald (Social scientist, commons.at), Leo Kühberger (historian), etc.