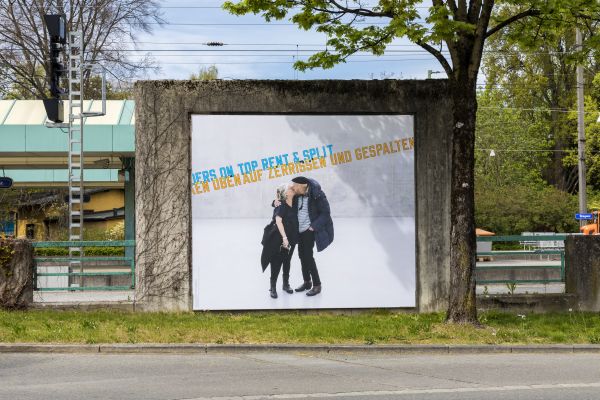 16.04. until summer 2020.

The new KUB billboards have been on display along Bregenzer Seestraße since 16 April. They show snapshots of artists from more than 23 years of KUB history and are a commitment to the joy of life and power of art, as the billboards themselves describe.
The photographs are entitled "Kunst ist unvergesslich" and show, among others, Lawrence Weiner kissing his wife (2016). Still included are photographs by Ensemble Pagon, the artists' group gelitin, Maurizio Cattelan, Bunny Rogers and Mariko Mori. Bregenzer Straße is the most frequented street in the city. The billboards have always extended the respective KUB exhibition into public space; they can be seen until summer 2020.

KUB Billboards "Die Kunst ist unvergesslich"
16.04. until summer 2020
along Bregenzer Straße
6900 Bregenz
www.kunsthaus-bregenz.at