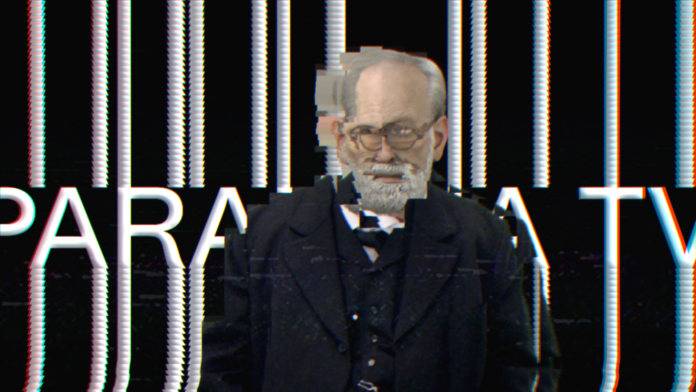 24.09. – 18.10.2020


"Paranoia TV – The steirische Herbst explores the ab-normality"
The steirische Herbst reinvents itself and goes among the media corporations: Paranoia TV is the name of the TV channel that is supposed to pick up the atmosphere of our time, which is characterized by fear and uncertainty.
Within the framework of the steirischer Herbst 2020 the project Paranoia TV takes place: between 24 September and 18 October the TV channel broadcasts on a wide range of frequencies. Paranoia TV specializes in the eerie and disturbing, broadcasting from a dystopian parallel universe.
The interested viewer can watch talk shows, TV series, live talks and discussion panels produced by artists. Some programmes could expand to physical interventions on the streets of Graz and Styria.
Paranoia TV responds artistically and critically to the global pandemic and the cuts it has caused – not only in our daily lives, but also with regard to the organisation of cultural events.

Participating artists are Lawrence Abu Hamdan, Akinbode Akinbiyi, Jérôme Bel, Neïl Beloufa, Christian von Borries, Sergey Bratkov, Alexander Chernyshkov, Pauline Curnier Jardin, Josef Dabernig, Nika Dubrovsky & David Graeber, Vadim Fishkin, Dani Gal, Thomas Geiger, Gelitin, Tamar Guimarães in cooperation with Luisa Cavanagh and Rusi Millán Pastori, Rana Hamadeh, Janez Janša, Lina Majdalanie & Rabih Mroué, Michikazu Matsune, Ingo Niermann, Lulu Obermayer, Ahmet Öğüt, Diederik Peeters, Joanna Piotrowska, Alexandra Pirici & Jonas Lund, Hendrik Quast & Maika Knoblich, Judy Radul, Joanna Rajkowska and Robert Yerachmiel Sniderman, Roee Rosen, Susanne Sachsse / Marc Siegel / Xiu Xiu (Jamie Stewart), Igor Samolet, Liv Schulman, John Smith, studio ASYNCHROME, Sung Tieu, Theater im Bahnhof, Clemens von Wedemeyer und Anna Witt. Further panels with Herwig G. Höller, Srećko Horvat, Adam Kleinman, Milo Rau und Hito Steyerl.


Paranoia TV – steirischer Herbst 2020
24.09. – 18.10.2020
www.paranoia-tv.com