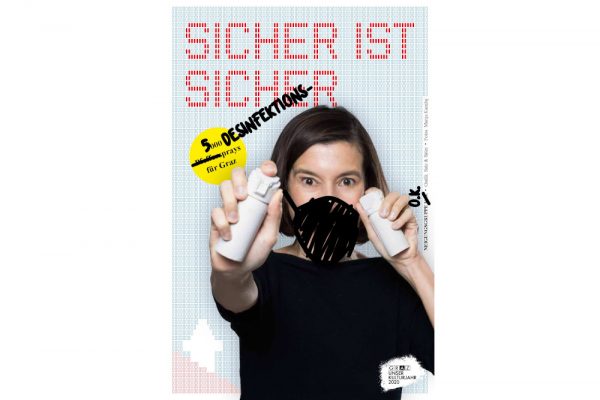 January until December 2020


Within the framework of cultural events and in general in public spaces, 5000 disinfectant sprays will be continuously distributed to the population in 2020. The idea for this comes from the Neigungsgruppe K.O. which originally intended pepper sprays for this purpose. Given the current situation, it can be said that the desire for safety has given way to a desire for clinical cleanliness.
Special times require special measures, so the motto here.
So, according to the inclination group, it is our joint responsibility to make a contribution against this threat. Distilleries that usually produce schnapps have now switched to the production of disinfectants. Textile companies produce mouth and nose protection instead of tablecloths and napkins, while automotive suppliers produce protective suits and disposable gloves.
The Neigungsgruppe K.O. (Johanna Hierzegger, Markus Wilfling, Martin Behr) is also changing its range of products in the Graz Cultural Year 2020, which is themed "How we want to live", and is now offering disinfectant sprays instead of pepper sprays. Since a health package is now being offered that serves collective security, the project trio has also changed its name to "Neigungsgruppe O.K.".
How we want to live? In any case: safe. Let us make Graz the safest cultural city in Austria. Now more than ever.


5000 Desinfektionssprays
January until December 2020
www.kulturjahr2020.at