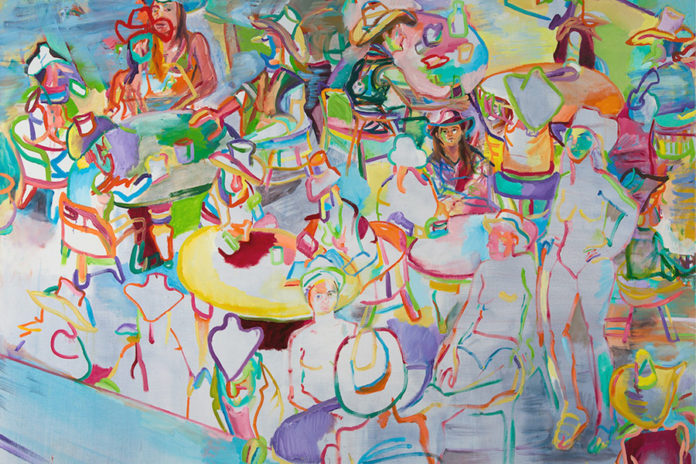 Opening 03.07.2020
04.07.2020 – 08.10.2020, Graz.
"Cowgirls" Gerlind Zeilner Exhibition at Künstlerhaus.
The Austrian artist Gerlind Zeilner is interested in the ambivalences of a male-dominated art history and the pictorial ideas associated with it. In her pictures she questions excessive male gestures in a humorous and refreshing way, for example in confrontation with the bar pictures of Jörg Immendorff or Henri de Toulouse-Lautrec.
In this solo exhibition, Zeilner will set her current works in relation to a room-sized installation. This will be Zeilner's most extensive exhibition to date and is intended to bring her qualities to a wider audience.
Gerlind Zeilner lives in Vienna and studied "Painting and Graphics" with Gunter Damisch at the Academy of Fine Arts in Vienna. Since 2017 she has been in charge of nude drawing there. Zeilner has had solo exhibitions at the Museumspavillon of the City of Salzburg (2000), Tresor at Bank Austria Kunstforum (2006), Artothek, Krems (2019) and Galerie Donopoulos IFA, Thessaloniki (2019).

Gerlind Zeilner
"Cowgirls"
04.07. – 08.10.2020
Künstlerhaus
Burgring 2
8010 Graz
www.km-k.at