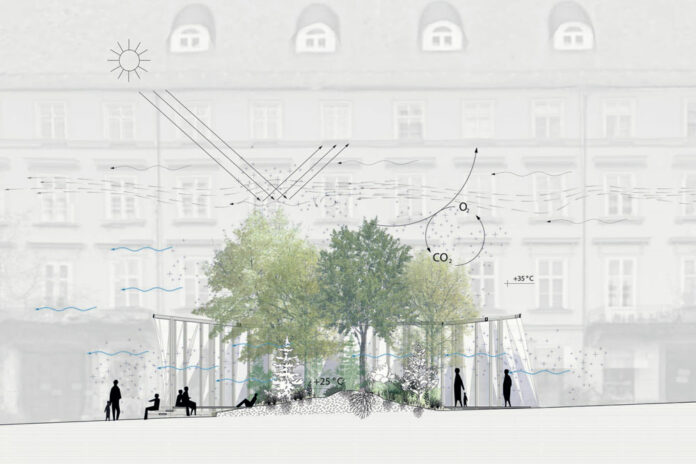 28.04. – 15.08.2021.


Rising average temperatures increasingly lead to overheating of urban spaces during summer. Measures and strategies to adapt to climate change play a crucial role for the future of cities like Graz.
The Climate-Culture Pavilion is an installation in public space that presents a future model for cooling urban spaces in hot summers and makes it directly tangible for visitors.
The approximately 100 m2 forest oasis invites visitors to linger and cool off in the middle of the city center.
In addition to the architectural, climatic and landscape design, the performance is an essential part of the project: The pavilion becomes a platform for a dense discourse and workshop program. Graz residents are invited to comprehensively discuss and shape climate culture together with experts from the fields of city and architecture, nutrition and mobility. In this way, the Breathe Earth Collective is picking up on themes from its successful "Breathe.Austria" pavilion, which it implemented as part of an interdisciplinary team for Austria at Expo 2015 in Milan.


Graz Kulturjahr 2020: Klima-Kultur-Pavillon
28.04. – 15.08.2021
www.kulturjahr2020.at/projekte/klima-kultur-pavillon/