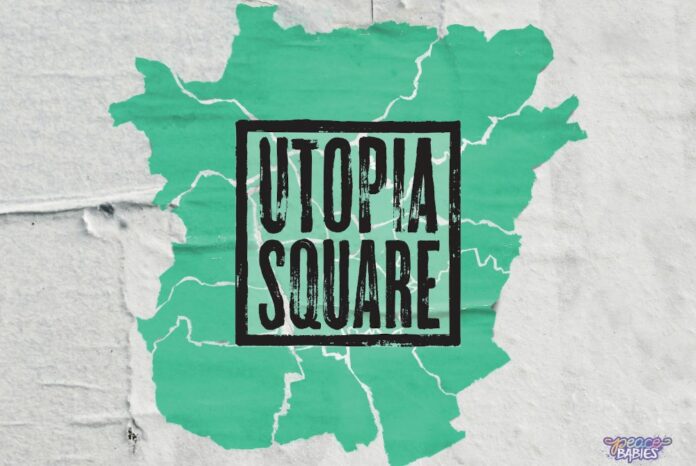 14.06. – 30.06.2021.


Pop-up placements with visionary future concepts on the 17 UN Sustainable Development Goals in the 17 districts of Graz The artist collective "Peace Babies" seeks answers to big questions in the small everyday.
"Utopia Square" conquers the 17 districts of Graz in 17 cross-disciplinary pop-up performances in public space. Based on the 17 Sustainable Development Goals of the United Nations, the Peace Babies set out to find Graz residents whose personal commitment drives the realization of these goals at the local level. Because they already exist, the visionary approaches to the future – and they exist in Graz. But what motivates individuals to get involved, where do motivation and strength come from? The answers to these questions serve as inspiration for the artistic debate with which the Peace Babies spontaneously occupy places in the sense of squatting, thus turning them into "Utopia Square".

These performances are accompanied by an online platform, utopiasquare.at, which also "digitally conquers" the city. The Peace Babies take a look behind the scenes of the artistic work and introduce their interview partners and their projects. The closing performance will take place on the forecourt of the clock tower.

17 Districts, 17 Goals, 17 Performances.

14.06.2021 Utopia Square XVII Gender Equality , District Puntigam
A pop-up performance in the district of Puntigam.
Information on venues will be announced at short notice via social media and the homepage.

15.06.2021 Utopia Square XVI Consumption, District Straßgang
A pop-up performance in the district of Straßgang.
Information on venues will be announced at short notice via social media and the homepage

16.06.2021 Utopia Square XV Health, District Wetzelsdorf
17.06.2021 Utopia Square XIV Infrastructure, District Eggenberg
18.06.2021 Utopia Square XIII Life on land, District Gösting
19.06.2021 Utopia Square XII No Hunger, District Andritz
20.06.2021 Utopia Square XI Energy, District Mariatrost
21.06.2021 Utopia Square X Life under water, District Ries
22.06.2021 Utopia Square IX Climate, District Waltendorf
23.06.2021 Utopia Square VIII Peace, District St. Peter
24.06.2021 Utopia Square VII No Poverty, District Liebenau
25.06.2021 Utopia Square VI Clean Water, District Jakomini
26.06.2021 Utopia Square V Inequality, District Gries
27.06.2021 Utopia Square IV Sustainable Cities, District Lend
28.06.2021 Utopia Square III Education, District Geidorf
29.06.2021 Utopia Square II Work, District St. Leonhard
30.06.2021 Final Performance Vorplatz des Uhrturms
A pop-up performance in each district.
Information on venues will be announced at short notice via social media and the homepage


Graz Kulturjahr 2020: Utopia Square
14.06. – 30.06.2021
www.kulturjahr2020.at/projekte/utopia-square/