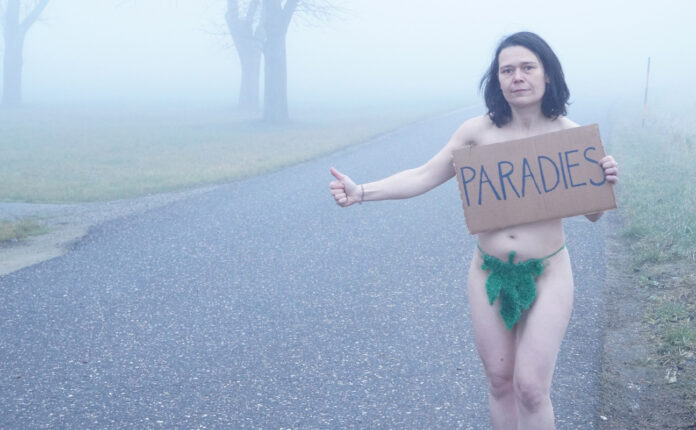 Paradise begins in Linz, one could say this year. From the roof of the OK Center in Linz, you not only have a good view of the sky, in which – despite light-pollution – the stars turn quite neatly at night. You also have a direct view of the Schlossmuseum on Linz's Schlossberg.
Both places are connected not only by the good reciprocal visual axis but also by paradisiac conditions in the coming months:
"Wie im Paradies" (as in paradise) is the motto of this year's "Höhenrausch" on the roof of the OK Center, curated by Höhenrausch inventor Martin Sturm together with Rainer Zendron: Fragrant love poems, a mirror garden with creepers, an artificial flock of birds as a tree of remembrance, growing artworks made of artificial fertilizer bring paradise into this world.
The multi-part exhibition tour leads through the rooms of the OK Center up to the roof- tops of Linz and across the attics of the former Ursuline convent into the Ursuline Church.
Works by 40 artists from Marina Abramovic to Candice Breitz and Anna Jermolaewa critically, succinctly, or ironically examine the promises of bliss that the consumer world suggests to us: Worlds of experience, shopping malls, vacation- or swingers' clubs: they all insinuate the promise of moments of bliss and yet offer only the facades of venal illusions.
Then rather the "real paradise": Does not ex- ist, some will say. Can wait, say others.
At the same time, the exhibition "Heaven Can Wait" is shown at the Schlossmuseum in Linz. For this exhibition, the artists' collective Steinbrener, Dempf and Huber, working with the extensive stock of taxidermy of the "OÖ Landes-Kultur GmbH", have staged visions of the future in huge dioramas that develop sketches of alternative future worlds in utopian, ambiguous and sometimes grotesquely humorous ways. Climate crisis, extinction of species, pandemic: we do not yet know exactly what changes will come our way as a result. In their dioramic still lifes, Steinbrener, Dempf and Huber speculate with a wide variety of possible interpretations. For every change, every random event, whether small or as global as the current pandemic, can bring about changes in perspectives and actions, bring other "truths" into focus and lead to other consequences. All the way to the vision of a world devoid of people.
So we learn: what can be paradise for some can be hell for others.



Höhenrausch
"Wie im Paradies"
OK Centrum Linz
06.05. – 17.10.2021
www.hoehenrausch.at
Heaven can wait
25.03. – 03.10.2021
Schlossmuseum Linz
www.ooelkg.at