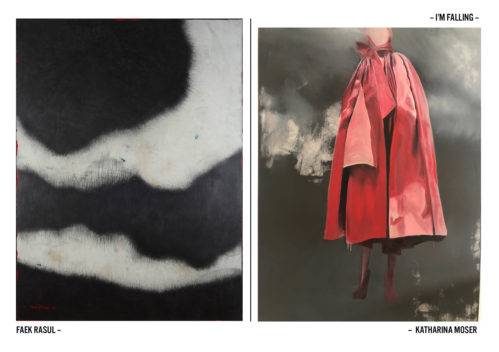 03.05. – 13.05.2021.

Faek Rasul and Katharina Moser process memories and dreams in their works as a starting point for comprehension, the perception of one's own consciousness and as a basis for looking into the future. The elements and objects in their paintings and drawings, never exist in isolation, but are always in relation to each other.
Katharina Moser shows in her oil paintings on canvas places of childhood, longing, perceptions of their own person and visions of tomorrow. She paints imaginary spaces and places of encounter between the experienced and the fantastic. Faek Rasul's latest paintings show a color-soaked paper surface. Each stroke of the mostly circular shapes, indicates the concentration and determination of the artist.
Katharina Moser, Faek Rasul
"I'm falling"
03.05. – 13.05.2021
Galerie Loft 8
Radetzkystraße 4
1030 Wien
www.loft8.at