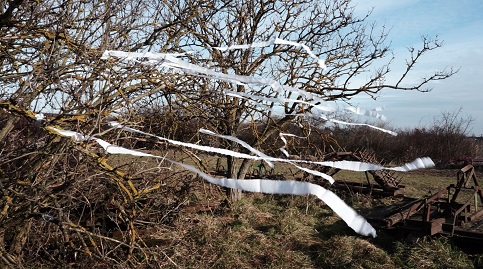 25.06. – 12.09.2021.
Who doesn't know the rhyme about the three children who dance in a circle under the elder bush and squat down under the same bush?
Holle, widely known as Frau Holle, was once the main goddess of our Germanic culture – still anchored in names like Hollenstein, Hollenburg or Hollabrunn! In 2020, Elisabeth von Samsonow, together with artists and supporters, acquired a property in the area of Hollabrunn, Lower Austria, which serves as a center for profound discourse and events around the white goddess and being a woman, art, nature and society today.
Circling around Holle, Samsonow references Styria and Strettweg's cult wagon located here, a processional wagon with a goddess statue in the center. Samsonow's installation of the Pretzel Goddess, the modern adaptation of the traveling cult goddess will also be on display, as well as a recent collaborative film work titled "A Visit, A Ceremony, A Gift," commissioned by the TULCA Festival of Visual Arts as part of the "Unselfing Programme" as part of Galway Cultural Capital of Europe 2020 with the support of the French Embassy in Ireland.
The Elder Poem
25.06. – 12.09.2021
Grazer Kunstverein
Palais Trauttmansdorff
Burggasse 4
8010 Graz
www.grazerkunstverein.org