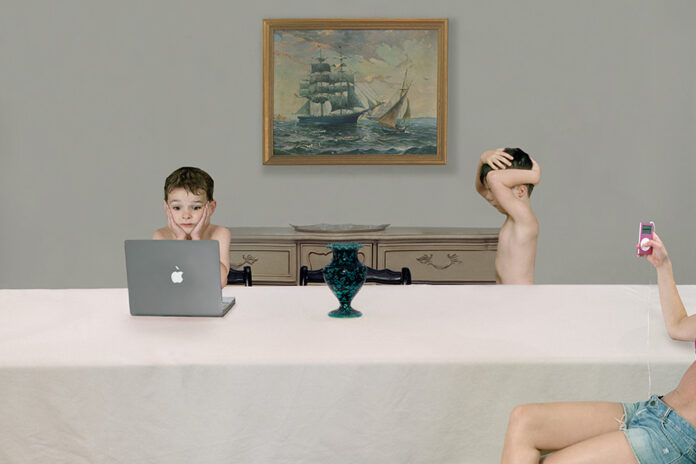 12.5.–5.9.2021.
Freedom for dreaming at Lentos Kunstmuseum.
"Unconcerned", "curious", "dreamy", "predetermined", "disciplined", "powerless", "innocent", "overtaxed": Curators Sabine Fellner and Elsiabeth Nwak-Thaller use these terms to strucutre their exhibition "Wilde Kindheit" (Wild Childhood), currently on display at the Lentos Kunstmuseum, into chapters.

On display are 170 works from 1900 to the present, documenting childlike happiness as well as frustrations, critically but also with a great deal of irony and humor. Alain Laboile, Heidi Harsieber, Alois Mosbacher and Fritz Simak observe their children "footloose" at carefree play and wild romping, experimenting and fooling around.

Sabine Fellner's aim with the exhibition is to demonstrate the broad spectrum of adventures, but also of challenges, that children and young people are currently confronted with. Realistically differentiated, often unsparing, but also with humor. "The exhibition is intended to address complex content without becoming instructive or moralizing," says Fellner.

The exhibition transports visitors into fantasy worlds featuring fairy-tale creatures, supernatural forces, witches, ghosts, the Christ Child and the Easter Bunny. Everyday objects turn into animated monsters, as in Auguste Kronheim's series of woodcuts "Unheimliche Kindheit" (Uncanny Childhood).

"I've never tried that before,
so I'm totally confident I can do it."
PIPPI LANGSTRUMPF

Works by Werner Berg, Thomas Billhardt, Christian Boltanski or Oskar Kokoschka show how children are helplessly exposed to the cruel realities of war, social misery or abuse.

This is contrasted with the rural idyll of a carefree childhood close to nature, for example, of the six children of photographer Alain Laboile, who documented his children growing up "on the edge of the world," as he says.

In the exhibition, an insatiable joy of discovery and experimentation is juxtaposed with a dull neglect of affluence. Children at play while imitating adults meets the smartphone-dominated worlds of experience of the media-dominated present.

At the center of the exhibition, twelve artists speak in video interviews about their own childhood experiences and what impact they had on their creative and artistic work. Yoko Ono to Jonathan Meese, Bill Viola, Wim Wenders, Daniel Kehlmann or Patti Smith give insights into their childhood, which also situates their later artistic work in a new contextual framework.

An exhibition that provides the impetus to dive back into one's own childhood memories. In which we still dreamed voraciously and with full senses.
WILDE KINDHEIT
12.5.–5.9.2021
Lentos Kunstmuseum
Doktor-Ernst-Koref-Promenade 1
4020 Linz
www.lentos.at