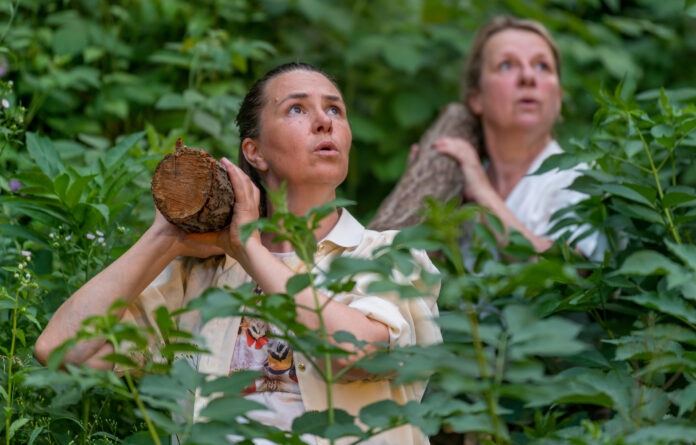 25.06. – 17.07.2021.
LOST IN THE WOODS!
A group of people have escaped the city and find themselves in the adjacent forests. Quite distant it is not the city and the forest, nature, an environment to which one does not feel connected. Nevertheless, mushrooms are sought and sold and the people philosophize. Is it now time to realize the thesis of Donna Haraway, who proclaimed the end of the Anthropocene. Are humans and machines now on an equal footing, indeed do they form a shoulder-to-shoulder alliance and allow boundaries and differences to disappear?
The group in unfamiliar terrain searches for connection, for community and for a possible togetherness. The audience can experience, feel and dance along with this poetic dance in impressive images.
The premiere was on June 25. Further performances follow on 02.07., 03.07., 04.07., 07.07., 08.07.,09.07., 10.07., 11.07., 13.07., 14.07., 15.07., 16.07. and 17.07.2021 – in each case at 19:30 o'clock at the LÜFTUNGSBAUWERK am BUCHKOGEL.
Meeting point is at the barrier on the forest path 7C direction Rudolfswarte, just after the castle St. Martin.
Then the adventure can begin!
DONNA HARAWAY DARF GRAZ DOCH NOCH NICHT VERLASSEN
25.06. – 17.07.2021
tib – Theater im Bahnhof
Elisabethinergasse 27a
8020 Graz
www.theater-im-bahnhof.com