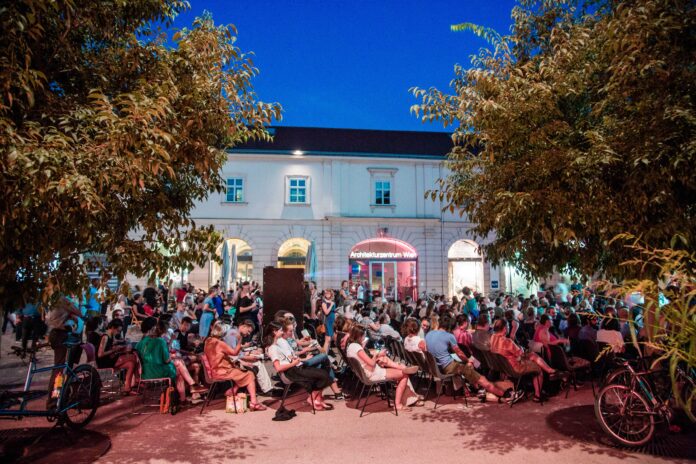 04. – 25.08.2021.


The Architektur.Fillm.Sommer presents films and new discoveries on the topic of soil consumption in rural and urban areas. The open-air festival invites film and architecture enthusiasts to linger and exchange ideas.
Species extinction, flooding, erosion – the future looks bleak, soil is becoming scarce and the call for a forward-looking soil policy is getting louder. What can a careful handling of land and soil for humans and animals look like? What about consumption of water, land and forests? And who bears the direct consequences of this scarcity today? These topics will be on the agenda at this year's Architecture.Film.Summer. Every Wednesday in August, the focus will be on a different theme: Forests, Rural Urbanities, Artificial Geologies, and Water is Life.
This Architecture.Film.Summer is a cooperation of AzW with wonderland – platform for european architecture and MuseumsQuartier Wien.
Mi 04.08., 20:30 "Habitat: Forests"

HOPE, AT 2020
00:38 min, ohne Dialog
R: Franziska Ducklauß

The Church Forests of Ethiopia, US/ET 2019
09:22 min, OmeU
R: Jeremy Seifert

Die Rote Linie – Widerstand im Hambacher Forst, D 2020
90:00 min, OmeU
R: Karin de Miguel Wessendorf


Mi 11.08., 20:30 "Rural Urbanities"

Sta(d/t)natur, AT 2020
03:07 min, OV
R: Franziska Ducklauß, Nikola Jelaciv, Eva Kretzschmar, Erza Rexhepi, Peter Daniel Szvath, Sara Treccarichi Scavuzzo


Everything's coming together while everything's falling apart: The ZAD, AT/DE 2017
36:00 min, ​OmeU
R: Oliver Ressler

Circum Stance, BESETZEN, AT 2020
04:46 min, ohne Dialog
R: Mira Klug

Rettet das Dorf, AT 2020
76:00 min, OV
R: Teresa Distelberger


Di 17.08., 20:30 "Artificial Geologies"

Wichtiger als Du denkst, AT 2020
02:03 min, OV
R: Anastasiia Prokhodtseva 

The Stream, AT 2021
09:09 min, OV
R: Diana Terenteva

A 23, AT 2020
06:05 min, ohne Dialog
R: Markus Rupprecht, Laurenz Steixner

Il Capo, IT 2010
15:00 min, ohne Dialog
R: Yuri Ancarani

Kiruna – A Brand New World, CZE 2019
87:00 min, OmeU
R: Greta Stocklassa


Mi 25.08., 20:30 "Water is Life"

Freundschaft, AT 2020
04:00 min, OV
R: Natalia Polstovalova

Flint is Family, USA 2016
11:49 min, OV
R: LaToya Ruby Frazier

Scenes from a Dry City, USA/RSA 2018
12:44 min, OmeU
R: Simon Wood, François Verster

When A Town Runs Dry, USA 2016
08:00 min, OV
R: Joris Debeij 

The Seeds of Vandana Shiva, USA/AUS 2021
82:00 min, OmeU
R: Camilla Denton Becket, James Becket 

Architektur.Film.Sommer 2021
04. – 25.08.2021
AZW – Architekturzentrum Wien
Museumplatz 1
1070 Wien