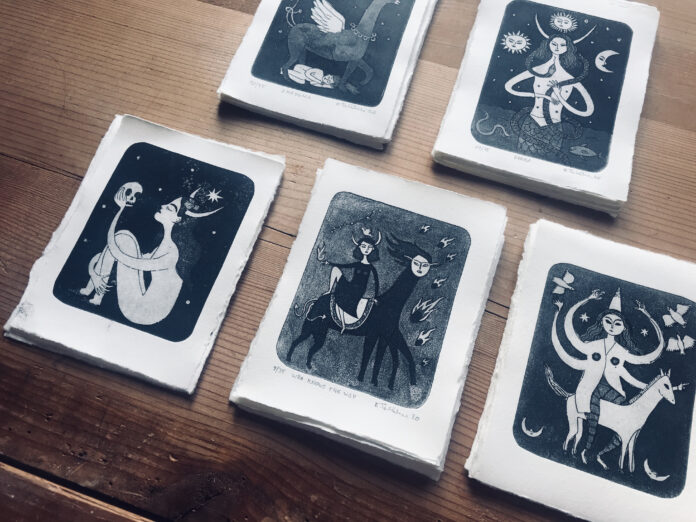 28.08. – 02.10.2021.
When the province in the distance leads to the journey inward and magical beings appear.
Bianca Tschaikner spent three months in Galicia in 2020. The Spanish province that lies farthest away from everything you can imagine – remote, surrounded by the wild Atlantic, magical and mystical. There were times when people thought that beyond it lay the end of the world.
The landscape shapes not only the people, but also the perception. Against the backdrop of this Terra Meiga, Tschaikner explored inner worlds, where the collective unconscious slumbers, interwoven roots grow, and living shadows arise
In monotypes, aquatint etchings, and ceramics, Tschaikner makes visible her mapping of a dark, fluid world populated by beings that spring from the mystical world of a wild nature.
The exhibition's supporting program offers a guided tour of the exhibition by the artist on September 3 at 7 p.m..
On September 10 at 7 pm there will follow a storytelling evening: With the sketchbook through the world.
And on September 16 at 3 p.m. there will be insights into the secret exhibition: Insights into unseen works of the project.
The finissage will take place as part of the Long Night of Museums on October 2.
Bianca Tschaikner: The Far Province
28.08. – 02.10.2021
Galerie Lisi Hämmerle
Anton-Schneider-Straße 4a
6900 Bregenz
www.galerie-lisihaemmerle.at