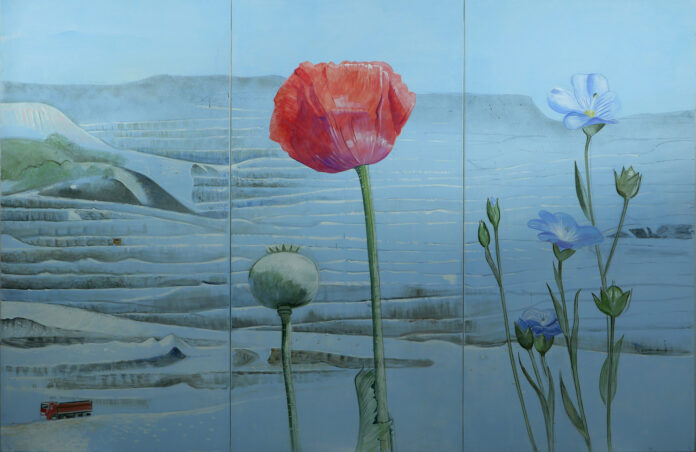 26.11.2021 – 13.03.2022.
The palette as the universal basis of the painted picture!
Where do the colors, pigments or binders that are used in a painting come from? And: No painted picture without colors!

Helmut and Johanna Kandl focus on the places of color and binder production. The two artists examine the map that each painting represents in a certain way: Gum Arabic as a binder for watercolors, for example, usually comes from Sudan, the wonderful intense blue of the Middle Ages often consisted of lapis lazuli mined in Afghanistan, while ochre was an important export for France in the 19th century.

In the exhibition, artistic works by Johanna and Helmut Kandl are shown together with works of art, minerals, plants and folkloric objects from the collections of the Universalmuseum Joanneum, combining artistic, cultural-historical and scientific research.

The exhibition is a cooperation with various scientific disciplines and research institutes (Institute for Natural Sciences and Technologies in Art, Academy of Fine Arts Vienna; Restoration at the Universalmuseum Joanneum, Neue Galerie Graz, Alte Galerie, Folklore Museum and Natural History Collections at the UMJ).
Johanna und Helmut Kandl: Palette
26.11.2021 – 13.03.2022
Kunsthaus Graz
Lendkai 1
8020 Graz
www.kunsthausgraz.at