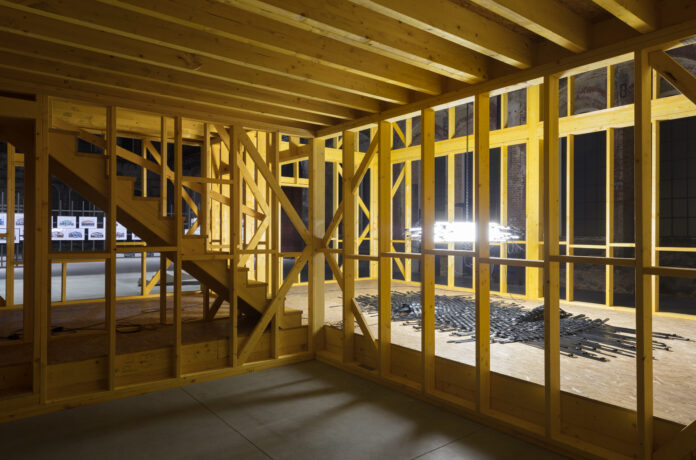 22.04. – 21.08.2022.
The focus of Monica Bonvicini's three-part exhibition is the house and the spatial orders and power structures associated with it. Accordingly, the presentations unfold kaleidoscopically around the themes of dwelling, domesticity, protection, destruction, normativity, control, but also the loss of control as well as the breakout from standardisation and gender roles.
The focus is on the work "As Walls Keep Shifting". It is one half of the 1:1 wooden skeleton of an Italian two-family house, a "villetta". This expansive structure serves as installation, sculpture and stage in equal measure. It forms the framework for further works by Bonvicini as well as for performances, readings and concerts by other artists from the fields of literature, music and the performative arts.
In addition, the Kunsthaus Graz is showing Bonvicini's photo series "Italian Homes", photographs of reshaped and redesigned serially built residential buildings in Lombardy in the late 1970s. Bonvicini's photos of these "villete" explore various forms of appropriation by their inhabitants and raise questions about individuality and singularity in the midst of a standardised and homogenised environment.
Monica Bonvicini: I don't like you very much
22.04. – 21.08.2022
Kunsthaus Graz
Lendkai 1
8020 Graz
www.kunsthausgraz.at