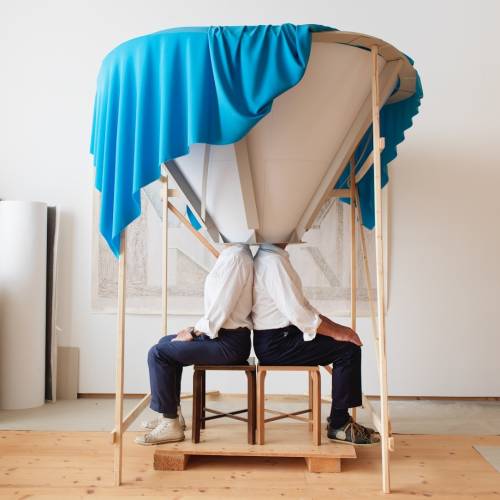 07.04. – 07.08.2022.
From Haus-Rucker-Co to O&O Baukunst!
This retrospective is dedicated to the work of the brothers Laurids and Manfred Ortner.
As Haus-Rucker-Co, together with Günter Zamp Kelp, Klaus Pinter and Caroll Michels, they conquered the international art scene in the 1960s and 70s. They experimented with consciousness-expanding spatial objects and opened up public urban space as a field of urban experimentation with their "provisional architecture". In a visionary way, they dealt with themes and motifs such as environmental destruction or "second nature" as an artificial habitat, which today seem more topical than ever.
In the 1980s, the provisional architectural concepts were increasingly replaced by permanently usable architecture. In 1987, the brothers founded the architectural firm Ortner & Ortner Baukunst and, building on the wealth of forms and ideas they had tested in the years before, developed buildings with the claim of long-term validity. With the SLUB in Dresden or the Museumsquartier in Vienna, they created icons of European building culture.
Both old and new works by Laurids and Manfred Ortner are on display on two floors. For the exhibition, the artists developed monumental objects and spatial installations that take up motifs and themes from the 1970s and 80s, vary them and reinterpret them. In the process, new works emerge at the intersection of architecture and sculpture. In addition, models, drawings and large-format oil and pastel paintings illustrate their world of ideas from back then, today and the day after tomorrow.
Laurids Ortner & Manfred Ortner: bis übermorgen
07.04. – 07.08.2022
FC – Francisco Carolinum
Museumstraße 14
4010 Linz
www.ooekultur.at/exhibition-detail/bis-übermorgen