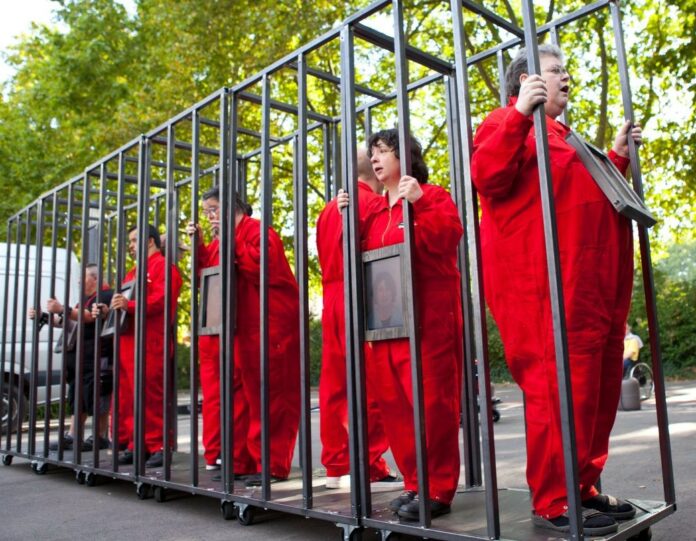 20.6. – 24.6. 2022
Inclusive theater and art projects by and for people with disabilities.
"Back to the future" is the motto of the international inclusive festival sicht:wechsel in Linz.
The festival offers an international stage for art, theater and cultural projects by and for people with disabilities. For the artistic director of the festival, Alfred Rauch, after a 2-year break from the festival due to the pandemic, the main thing is to explore what moved and occupied the artists with disabilities during this time of isolation.
The inclusive theater group Die Tonne from Reutlingen in Germany deals with the history of Grafeneck Castle in their production "Stay here … Traces to Grafeneck", in which people were killed during the Nazi-Regime era, which the Nazis categorized as a "life unworthy of life".
In their production A Peepshow für Cinderella, the Italian ensemble Teatro la Ribalta deals with the topics of sexuality and sensuality, which are still taboo in this context.
In addition to numerous other theater projects, a large-scale exhibition of art and studios with social sponsorship curated by Garbiele Spindler and Kristiane Petermann will take place in the Linz Castle Museum as part of the sicht:wechsel Festival 22, in which the ARCUS social network Haslach via the Caritas KUNS St. Pius , the Diakoniewerk Gallneukirchen to Lebenshilfe or the Kunstraum Goethestrasse xtd numerous Upper Austrian partners are involved.
sicht:wechsel 22
International inklusive Culturefestival
20.06. – 24.06. 2022
Linz, various locations
www.sicht-wechsel.at