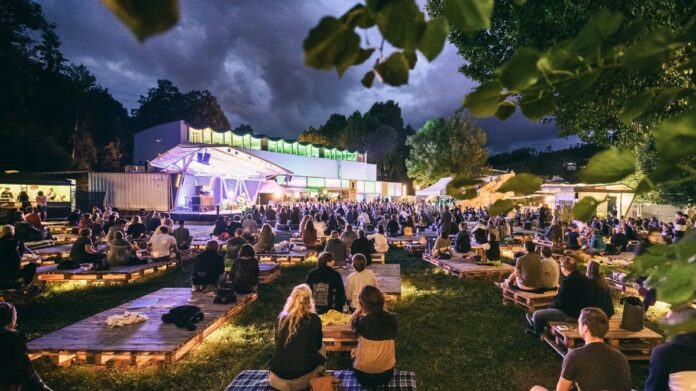 07.07. – 14.08. 2022
Niches to pop – the Reichenfeldwiese and the "Alte Hallenbad" in Feldkirch once again offer the unique setting for the Poolbar Festival this year.
The line-up of the festival – this year under the motto "Niche to Pop" offers a wide range of genres: Sportfreunde Stiller, Metronomy, HVOB, As I Lay Dying, José González, Protoje, Jeremy Loops, Witch, Lola Marsh, Agnes Obel, Girls against Boys, Local Natives, Clowns, Some Sprouts, OSKA, Los Bitchos, Psychedelic Porn Crumpets, Kytes, Friedberg, Yves Tumor, Efterklang, 5/8erl in Ehr' n, Alicia Edelweiss, Glauque, SWIFT Circle, Etna, Salute are coming this summer to Feldkirch. Cabaret artist Alfred Dorfer and the Austrian writer Wolf Haas also stop by.
Numerous other cultural programmes are scheduled on the festival weekends: from the pool quiz to open-air cinema programs, readings, workshops, theater performances or the "space program" with discussions on socio-political topics.
Poolbar Festival
Feldkirch, Hallenbad Reichenfeld
07.07. – 14.08. 2022
ww.poolbar.at