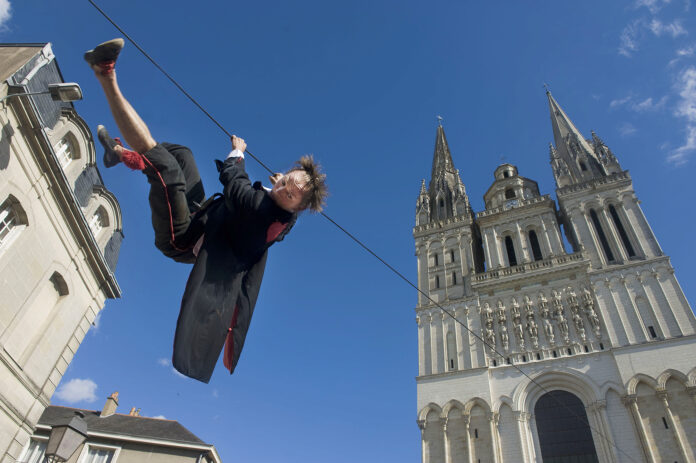 29.07. – 06.08. 2022
"Happiness lies on the street": The Graz street art festival La Strada has become a nomad in search of happiness.
Happiness! And on command: Are we moving towards a time when our emotions can be programmed at any time? The Dutch director Dries Verhoeven deals with this question, which is no longer so far-fetched, in his production Happiness for this year's street art festival La Strada, which be taking place in Graz and numerous other Styrian locations.
Verhoeven places a humanoid female robot at the center of his play, who talks lightheartedly about how different hormone levels can be artificially programmed and thus promise artificial "happiness".
In the 25th year of its existence, La Strada programm director Werner Schrempf takes a look at the past and future of the festival. Since La Strada was brought to life on the initiative of Emil Breisach, the multitalented cultural and media manager and doyen of the Styrian cultural scene, the festival has continued to develop.
In the early years La Strada was almost exclusively focussed to street art, but over the years numerous other event formats and genres have been added. From large stage shows, for example with the Collectif de la Bascule in the Graz Opera House, to the landscape opera "Signal am Dachstein" at the summer solstice on the rapidly melting Dachstein Glacier, to numerous productions with which La Strada set out from Graz to many other places in Styria. From Stainz via Leibnitz to Waldbach or Weiz.
Diana Brus, the daughter of the Austrian artist Günter Brus and Werner Schrempf, who built up the festival together from the beginning, have understood over the past 25 years how to network and how to link La Strada both in Europe and locally in a variety of ways. On her co-initiative, the Europe-wide network of street art festivals IN SITU was brought to life, in which 19 festivals from 13 European countries and the USA are now working together. Only through these international co-productions was it possible to realize numerous spectacular street theater productions that would have been almost impossible to finance alone.
This year, a musical homage is dedicated to the festival's namesake, Federico Fellini, who paid tribute to the street artists and circus people with his film classic "La Strada": Christian Muthspiel has composed the orchestral work "La Melodia della Strada", which – like the life of Gelsomina played by Giulietta Masina in Fellini's masterpiece – oscillates between exuberant joie de vivre, passion and melancholic thoughtfulness.
The 25th anniversary will also be celebrated on July 31st with a big party on the forecourt of the Graz Opera: A party to be amazed and to laugh about. La Strada 2022 provides the melodies, pieces and surprises for this summer's art.
La Strada 2022
Graz, Stainz, Weiz, Leibnitz, Waldbach & St. Stefan ob Stainz
29.07. – 06.08. 2022
www.lastrada.at