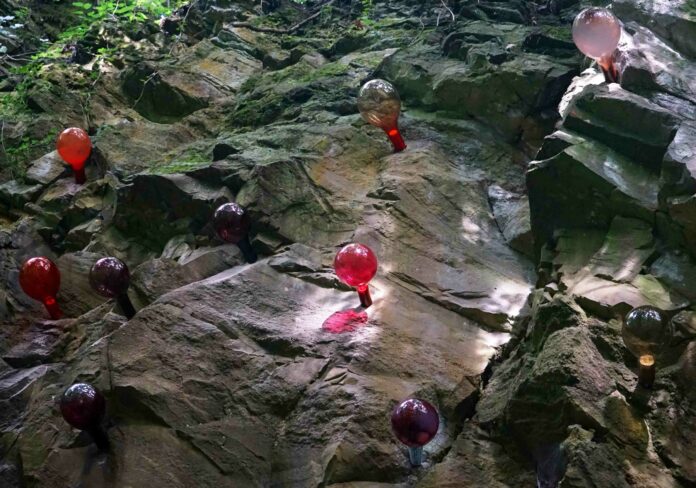 Permanent Exhibition
The sculpture project 46 Colours by Tamara Grčić began in the mineral collection of the Joanneum. Intensive research in the Styrian "Vulkanland" on the geohistory of volcanoes and today's language usage led to the project.
At the beginning of the 19th century, the mineralogist Werner invented colour names for crystalline rock samples. The artist translated his colour words into spoken language with a video film, into 46 hand-blown coloured glasses and into fleeting chalk fonts in public space, which were created in collaboration with Graz schools. The project could be seen at three different locations: in the Natural History Museum (Joanneumsviertel, Graz), on a tuff rock face of volcanic origin near Klöch in southeastern Styria and in the urban space of Graz.
The coloured glasses can still be seen as a permanent exhibition on the rock face Tuffsteinfelswand.
Directions for daring hikers: Country road L259, Klöchberg, to junction Finsterl Weg. Parking at Buschenschank Palz. Follow the road on foot to the junction Jodlschuster Weg. Follow this path into the forest until the junction on the right, just before a small bridge. Follow the forest path uphill to the tuff rock face. 
46 Colours- Tamara Grčić
Permanent Exhibition – Art in Public Space
am Jodlschuster Weg in Klöchberg,
8493 Klöch
46°45'55.0″N 15°56'53.0″E
https://www.museum-joanneum.at