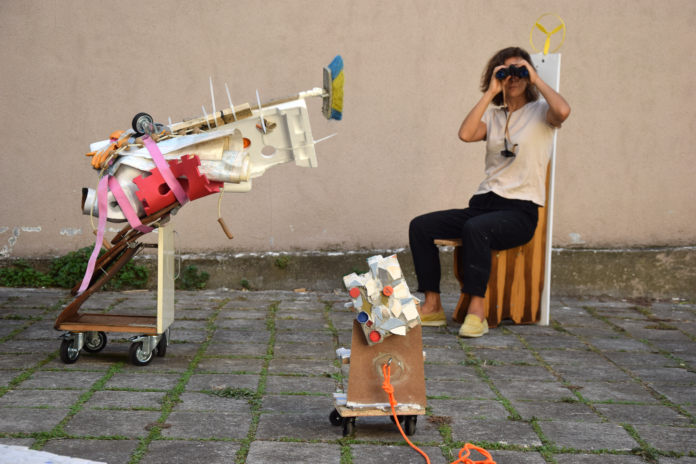 18.2. – 21.5.2023
How do artists see the world? This show gives 24 very diverse, fresh answers.

With the exhibition ON THE ROAD AGAIN, 24 artistic positions of contemporary art from Austria, conceived and realized for 23 cities around the world, come together in a group exhibition at the end of the call for entries of the same name in Vienna.
The topic is the upheaval in society and ecology – Austrian artists face realities that affect us all around the world. Each individual artistic work was created in confrontation with a specific country, a place – picks up a trace, a concrete aspect of a broad overall topic that affects us all, makes fears conscious, makes a piece of reality artistically visible.
Artists: Linda Berger, Ramesch Daha, Julia Goodman und Gabriele Edlbauer, Aglaia Konrad, Matthias Klos, Holger Lang und Martina Tritthart (Mutual Loop), Claudia Larcher, Rosmarie Lukasser, Christian Kosmas Mayer, Jelena Micić, Maaijke Middelbeek, Ernst Miesgang, Stefanie Moshammer, Marija Nujic und Vanja Fuchs (mit Arbeiten von Josepha Edbauer, Mathias Hanin, Kaja Clara Joo, Georgij Melnikov, Hidéo Snes), Olaf Osten, Zara Pfeifer, Rainer Prohaska, Werner Reiterer, Darja Shatalova, Paul Spendier, Martina Tscherni, Anna Witt, Joanna Zabielska, Barbara Eichhorn und Anna Khodorkovskaya, Reinhold Zisser
A joint project by the Section for International Cultural Affairs in the Ministry of Foreign Affairs, the Austrian Cultural Forum and the Künstlerhaus association.
ON THE ROAD AGAIN – Artists Once Almost Around the World
18.2. – 21.5.2023
Künstlerhaus Wien
Karlsplatz 5
1010 Wien
https://www.k-haus.at