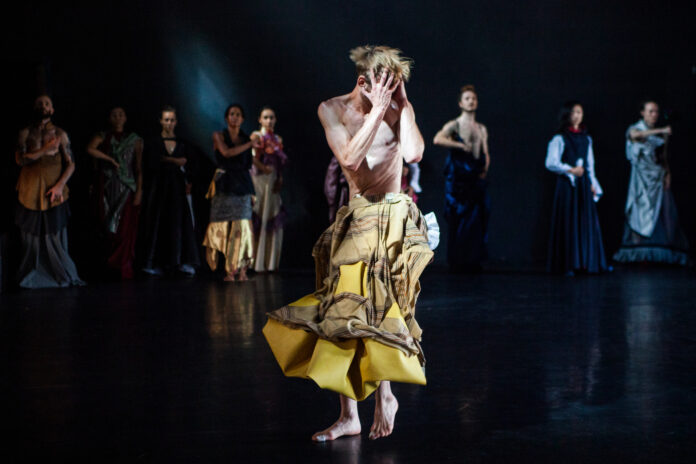 11.3. – 15.5.2023
Expressive, profound, visionary, classic, loud, happy, lively, epic, reflective, moving, powerful, young and fresh – this is what spring 2023 in Bregenz is all about.
Five international world-class companies take you into the diverse and breathtaking world of dance with expressive performances:
Vessel, a co-production of the Belgian-French choreographer and dancer Damien Jalet with the Japanese visual artist Kohei Nawa, created a symbiotic work between sculpture and choreography, in which it becomes impossible to separate one from the other – danced by the Théâtre National de Bretagne.
With Seises, the falmenco dancer Israel Galván has created a choreographic dance solo, drawing on Andalusian traditions with religious roots. In his play, Israel Galván brings together the baroque, Velázquez, Scarlatti, the Spanish gitanos from Triana, German Expressionism and the minimalism of the American avant-gardists.
Diversity is the choreographer Richard Siegal's program: The Ballet of Difference explores the boundaries of what is considered normal in our society. It addresses the history, the culture of ballet. Who dances what, how racist, how sexist is classical dance?
In LOVETRAIN2020, Israeli choreographer Emanuel Gat continues his longstanding exploration of the points of contact between choreography and music, the visual and the auditory – potentials they offer for study and storytelling.
Jungle Book Reimagined – out of a sense of existential necessity, British dancer and choreographer Akram Khan has reinterpreted Rudyard Kipling's Jungle Book. Ten international dancers reflect on history from the perspective of our children who will inherit this world and be our future storytellers.
The main program will be rounded off with a world premiere of Morbus Hysteria – We are all right by the aktionstheater ensemble.
Bregenzer Frühling 2023
11.3. – 15.6.2023
Festespielhaus Bregenz and various locations
https://www.bregenzerfruehling.com