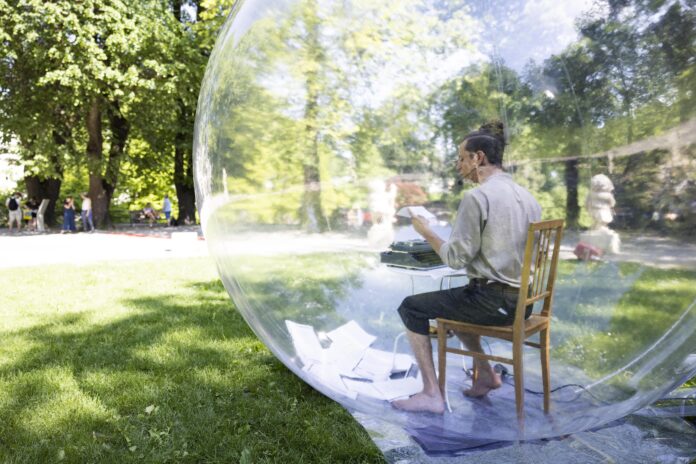 10.5. – 15.5.2023
BURSTING BUBBLES! The Salzburg Literature Festival bursts the bubbles in our comfort zones.
Writing against the exclusion of marginalised groups in society: The Salzburg Literature Festival makes the overheard heard.
As part of the Salzburg Literature Festival, one can read quotes like this in numerous Salzburg shop windows:
"We need all our spirit of resistance."
It is taken from Laura Freudenthaler's text: A space is a possibility. Moving out of your own bubble of perception opens up space – for new ideas, perspectives, new encounters, new authors. The 15th Salzburg Literature Festival presents writers who give a voice to marginalized groups in our society in an impressive way:
In Easy Language by Christina Morales, four women classified as "mentally handicapped" rebel against state paternalism. The Spanish author and producer of a punk band has presented an aggressive, uncomfortable and anarchic work. "This novel is not a fairytale of inclusion, it is a catalog of demands. He insists on naming differences, on clarity, he insists on the need to hate, on liveliness, surprise and revolt."
A core theme of Across the River by author and psychologist Theresa Pleitner is white privilege and the entanglements in structural racism. The protagonist of the novel finds herself as a worker in the system of flight and integration and realizes that as part of the system she becomes part of the problem. The novel has autobiographical traits, because like her main character, Pleitner also worked in a refugee camp and knows the moral dichotomy.
Loneliness and isolation in our society are themes of the Austrian-Japanese author Milena Michiko Flašar. "Kodokushi", which means "lonely death", is the Japanese term for dying that nobody notices and when corpses sometimes go undetected for years. Above Earth, Below Sky deals with a somber and not purely Japanese phenomenon and a reminder that people all over the world struggle with problems of social isolation, exclusion and loneliness.
Against the background of unemployment and apparent hopelessness, Birgit Birnbacher asks how we want to live in her new novel Where We Live. Using keywords such as care work, relationship work, the low-wage sector and care, the author goes through forms and areas of work that have been under discussion since the beginning of the corona pandemic. Above all, Birnbacher works out the part that women have in maintaining families and care systems while constantly exceeding the limits of their strength.
These and other voices are combined with readings, performances, literary walks and concerts with international authors, musicians and artists. Literature can pull us out of our comfort zones and even spark revolutions.
Let's burst the bubbles!
Literaturfest Salzburg 2023
10.05. – 15.5. 2023
Salzburg, various locations
www.literaturfest-salzburg.at