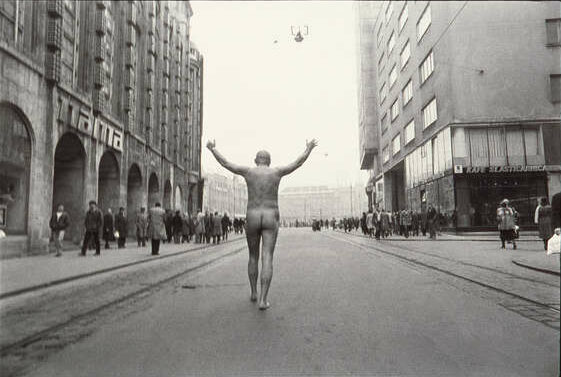 26.5. – 27.8.2023
The exhibition Body and Territory brings together more than 30 positions and around 100 works that exemplify two dominant tendencies in contemporary art in Austria: radical performance and a feminist legacy that gives a voice to those who are silenced: women, queer people , migrants, refugees.
The historical works in the show show how the vulnerability of the body, a dominant theme in Austrian art at the beginning of the 20th century, became the main medium of radical forms of political resistance in the late 1960s.
The regulation of the body and its resistance to classification and categories are also the themes of a number of recent works in the exhibition.
With works by Marina Abramović, Josef Bauer, Ana Brus, Günter Brus, CLUB FORTUNA, Lea Culetto, Josef Dabernig, Katrina Daschner, Vlasta Delimar, Ines Doujak & John Barker, Ana Nuša Dragan, Srečo Dragan, VALIE EXPORT, Susanna Flock, Gelitin , Tomislav Gotovac, Skupina OHO, Marina Gržinić & Aina Šmid, Nilbar Güreş, Peter Gerwin Hoffmann, IRWIN, Sanja Iveković, Željko Jerman, Anna Jermolaewa, Birgit Jürgenssen, Richard Kriesche, Nina Kurtela, Katalin Ladik, Laibach, Marko Lulić, Luiza Margan , Marko Marković, Branko Milisković, F. J. Nestler-Rebeau, Friederike Pezold, Neli Ružić, Toni Schmale, Mladen Stilinović, Ingeborg Strobl, Slaven Tolj & Marija Grazio, Milica Tomić, Peter Weibel, Erwin Wurm, Vlasta Žanić and others.
The exhibition was curated by Katia Huemer (Kunsthaus Graz), Jasna Jakšić and Radmila Iva Janković (MSU Zagreb).
Body and Territory – Cross-border Dialogues
26.5. – 27.8.2023
Kunsthaus Graz
Lendplatz 1, 8020 Graz
www.museum-joanneum.at