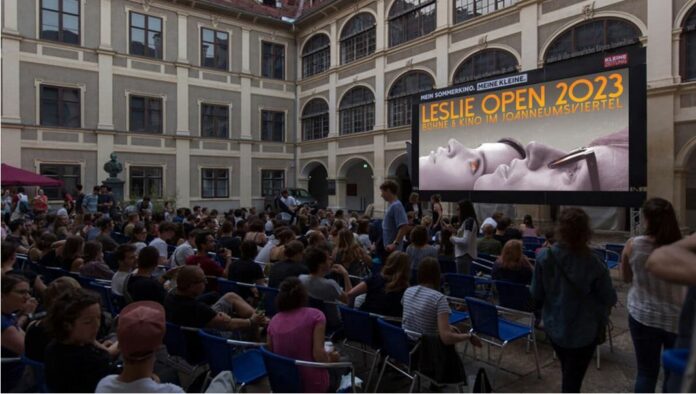 2.6. – 2.9.2023
Open-air summer cinema! The Leslie Open is playing in the Joanneum district again.
The focal point of the open-air festival is the picturesque Lesliehof, which will be converted into an open-air stage by September 2nd. The Open Leslie 2023 shows a colorful mix, which feeds on the successful productions of the last and the new year, from this year's Oscar winner "Everything Everywhere All at Once" with Michelle Yeoh, to classics like "Rebel Without a Cause" with James Dean to Austrian productions such as "Der Fuchs" by Adrian Goiginger and "Corsage" by Marie Kreutzer.
This year, the audience can expect over 70 films from different genres from more than 30 countries, a live screening of the restored concert movie "Ziggy Stardust and the Spiders from Mars", a brilliant "Oldies but Goldies" series with the promotion of two tickets to the Prize of one and Beethoven's "Eroica" as part of the ORF Steiermark "Klangwolke" on July 14th.
LESLIE OPEN 2023
Open-Air-Kino im Lesliehof
2.6. – 2.9.2023
Lesliehof, Raubergasse 10
8010 Graz, Styria
www.wanderkino.com
The movie program:
| | |
| --- | --- |
| Fr, 2. Juni 2023 | Everything Everywhere All at Once |
| Sa, 3. Juni 2023 | Griechenland |
| So, 4. Juni 2023 | Rebel without a Cause (OmU) |
| Mo, 5. Juni 2023 | Der Gesang der Flusskrebse |
| Di, 6. Juni 2023 | Meine Stunden mit Leo |
| Mi, 7. Juni 2023 | 2-RAD ABENTEUER Multimedia-Show mit Philipp Schaudy |
| Do, 8. Juni 2023 | Monsieur Claude und sein großes Fest |
| Fr, 9. Juni 2023 | Das Neue Normal |
| Sa, 10. Juni 2023 | Die Fabelmans |
| So, 11. Juni 2023 | Geschlossene Veranstaltung |
| Mo, 12. Juni 2023 | The Menu |
| Di, 13. Juni 2023 | Corsage |
| Mi, 14. Juni 2023 | Love Machine 2 |
| Do, 15. Juni 2023 | Die Insel der Zitronenblüten |
| Fr, 16. Juni 2023 | Oskars Kleid |
| Sa, 17. Juni 2023 | Ein Mann namens Otto |
| So, 18. Juni 2023 | Casablanca (OmU) |
| Mo, 19. Juni 2023 | Triangle of Sadness |
| Di, 20. Juni 2023 | Eismayer |
| Mi, 21. Juni 2023 | Wann wird es endlich wieder so, wie es nie war |
| Do, 22. Juni 2023 | Akropolis Bonjour – Monsieur Thierry macht Urlaub |
| Fr, 23. Juni 2023 | Book Club 2 – Eiin neues Kapitel |
| Sa, 24. Juni 2023 | Das Lehrerzimmer |
| So, 25. Juni 2023 | COFFEE AND CIGARETTES (OmU) |
| Mo, 26. Juni 2023 | Geschlossene Veranstaltung |
| Di, 27. Juni 2023 | PFERDE STEHLEN |
| Mi, 28. Juni 2023 | The Banshees of Inisherin |
| Do, 29. Juni 2023 | Mamma Ante Portas |
| Fr, 30. Juni 2023 | Die Nachnarn von oben |
| Sa, 1. Juli 2023 | Mein fabelhaftes Verbrechen |
| So, 2. Juli 2023 | YELLOW SUBMARINE (OmU) |
| Mo, 3. Juli 2023 | Ziggy Stardust and the Spiders from Mars |
| Di, 4. Juli 2023 | BON VOYAGE! – EIN FRANZOSE IN KOREA |
| Mi, 5. Juli 2023 | Broker – Familie gesucht |
| Do, 6. Juli 2023 | Adios Buenos Aires |
| Fr, 7. Juli 2023 | Das reinste Vergnügen |
| Sa, 8. Juli 2023 | Doggy Style |
| So, 9. Juli 2023 | The Wizard of Oz (OmU) |
| Mo, 10. Juli 2023 | Pearl |
| Di, 11. Juli 2023 | Die Rumba-Therapie |
| Mi, 12. Juli 2023 | Akrosphäre & Dada Zirkus präsentieren EIN ABEND, ZWEI ZEITGENÖSSISCHE ZIRKUSSTÜCKE (Beginn 19:00 Uhr) |
| Mi, 12. Juli 2023 | Die Unschärferelation der Liebe |
| Do, 13. Juli 2023 | Champions |
| Fr, 14. Juli 2023 | ORF Steiermark Klangwolke Beethovens EROICA als Orchesterereignis mit jungen Menschen! |
| Sa, 15. Juli 2023 | Griechenland |
| So, 16. Juli 2023 | Maria träumt – oder: Die Kunst des Neuanfangs |
| Mo, 17. Juli 2023 | Tár |
| Di, 18. Juli 2023 | Was dein Herz dir sagt – Adieu ihr Idioten! |
| Mi, 19. Juli 2023 | Tagebuch einer Pariser Affäre |
| Do, 20. Juli 2023 | Alma und Oskar |
| Fr, 21. Juli 2023 | No Hard Feelings |
| Sa, 22. Juli 2023 | The Flash |
| So, 23. Juli 2023 | Whitney Houston: I Wanna Dance With Somebody |
| Mo, 24. Juli 2023 | Sterne unter der Stadt |
| Di, 25. Juli 2023 | Der Fuchs |
| Mi, 26. Juli 2023 | Asteroid City |
| Do, 27. Juli 2023 | INDIANA JONES UND DAS RAD DES SCHICKSALS |