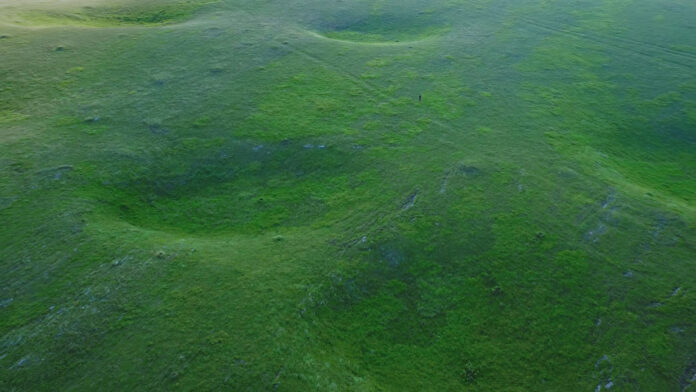 27.5. – 12.8.2023
In his work, Miloš Trakilović explores visibility and freedom in the digital age through the lens of his family history. The video essay is based on the account of his mother, Milijana Mendeš, who survived the atrocities of the Bosnian War and fled to the Netherlands with her two children in 1995. In 2018, Trakilović conducted an extensive interview with her about her experiences from the Bosnian War.
Shot in the Netherlands and Bosnia and Herzegovina, and oscillating between simulated and 'real' landscapes, Colorless Green Freedom's Sleep Furiously unfolds as a curious and poetic dream sequence. Trakilović conjures up the invisible and unrelenting forces that make up the experience and memory of war and its aftermath.
"When I arrived in the Netherlands as a refugee, the first thing I did was to sit in a park for hours. I couldn't stop staring at the grass. It was so lush and green. I've seen grass many times in my life, but never this bright. I remember sitting there and thinking: this grass is so green, it's free, and in that moment I felt free too. I felt liberated from my past." (Miljana Mendeš)
Colorless Green Freedoms Sleep Furiously (2023) is presented alongside All But War Is Simulation (2020), a two-channel video installation exploring the depiction of violence and the visualization and mediatization of warfare in the age of digital expansion.
The Work We Share, a film program featuring ten newly digitized films from the Cinenova collection, will be screened in conjunction with the exhibition over the course of ten weeks. The program includes films by S. Pearl Sharp, Pratibha Parmar, L. Franklin Gilliam, Laleen Jayamanne, Noski Deville, Jacqui Duckworth, Sheffield Film Co-op, Sistren Theater Collective, Adriana Monti, as well as Esther Ronay, Mary Kelly, Mary Capps, Humphrey Trevelyan, Margaret Dickinson, Brigid Segrave and Susan Shapiro. Produced between 1972 and 1994, the films explore oppositional stories and issues of difference through the lens of gender, race, sexuality, health and community.
Colorless Green Freedoms Sleep Furiously – Miloš Trakilović
27.5. – 12.8.2023
Grazer Kunstverein
Burggasse 4, 8010 Graz, Styria
https://www.grazerkunstverein.org