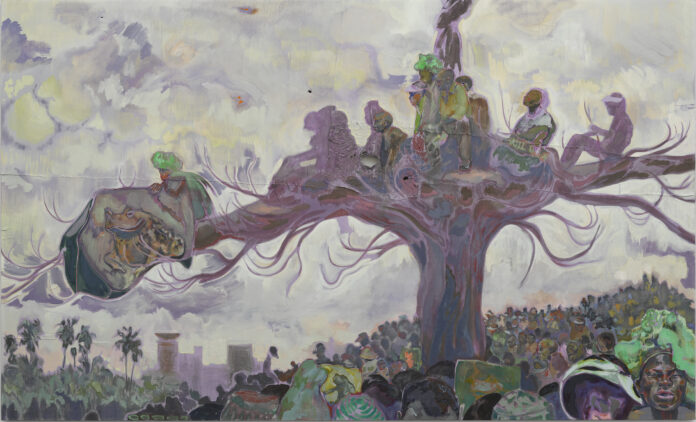 15.7. – 29.10.2023
Michael Armitage is considered one of the most important contemporary painters. Armitage's motifs are influenced by history and current political events.
Influences of European art can be found in these pale compositions as well as East African traditions. He observes local rituals and political rallies, alongside plant and animal life. Velvety on the surface and shapely in the planes, his pictures have an unsettling ambiguity. Colors are applied in several layers, scraped off and reworked.
A special feature of his paintings is the image carrier: the bark of the Ugandan fig tree. In a complex process, the hard organic material is transformed into a soft, stretchable fabric called »Lubugo«. Armitage sews the fragments together into remarkable formats. The seams remain visible under the paint layer. Voids and scars form.
The exhibition Michael Armitage – Pathos and the Twilight of the Idle at the Kunsthaus Bregenz is the first comprehensive presentation of the British-Kenyan painter in Austria.
Michael Armitage – Pathos and the Twilight of the Idle
15.7. – 29.10.2023
Kunsthaus Bregenz
Karl-Tizian-Platz
6900 Bregenz
www.kunsthaus-bregenz.at