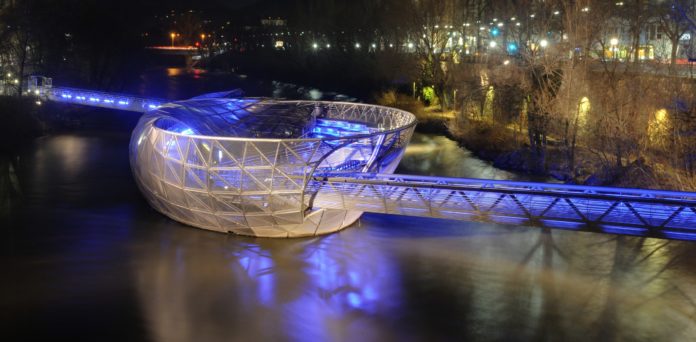 11.7. – 6.9.2023
"Summer Movies" under the stars and with the Mur rippling in the background. The Film Centre at the Rechbauerkino shows international film classics and current Austrian films from 1928 to 2022. Alex Desmond gets the audience in the mood for the screening with background information and anecdotes about the film.
The open-air summer cinema opens with the movie "Zorba the Greek" starring Antony Quinn. Many other films such as "The Adventures of Priscilla, Queen of the Desert" or "Le mari de la coiffeuse" can be seen in the coming weeks. On 26 July, the Miss Desmonds Summer Film Party feat. The legendary Lucy McEvil with "The Rocky Horror Picture Show" will take place.
It starts at 9pm in July and 8pm in August and September. In good weather the amphitheatre is used, in bad weather the films are shown in the café.
Admission is free and there is free seating. However, seating is limited because only a limited number of people are allowed on the Murinsel at the same time.
Programme:
July 2023 (starts at 9pm)
11.07. Zorba the Greek (OmU)
12.07. The Inn on the Thames
18.07. Fire Flower – The Two Lives of Marisa Mell
19.07. I Love Vienna
25.07. Priscilla – Queen of the Desert (OmU)
26.07. The Rocky Horror Picture Show(OmU) – Miss Desmond's summer film party feat. The legendary Lucy McEvil
August 2023 (starts at 8pm)
01.08. Kottan ermittelt – Threatening Letters
12.08. Steamboat Bill, Jr. (silent film concert)
06.08. Groundhog Day
08.08. The Man Who Fell to Earth (OmU)
09.08. Vera (OmU)
15.08. Ghost in The Shell
22.08. The Duellists (OmU)
23.08. Alien (OmU)
29.08. Le mari de la coiffeuse (OmU)
30.08 Paper Moon (OmU)
September 2023 (starts at 8pm)
05.09. Bellisima – The Most Beautiful
96.09. The Neverending Story
Open-Air-Cinema on the Murinsel
11.07. – 06.09.2023
Murinsel
Lendkai 19
8020 Graz, Styria
www.uncut.at