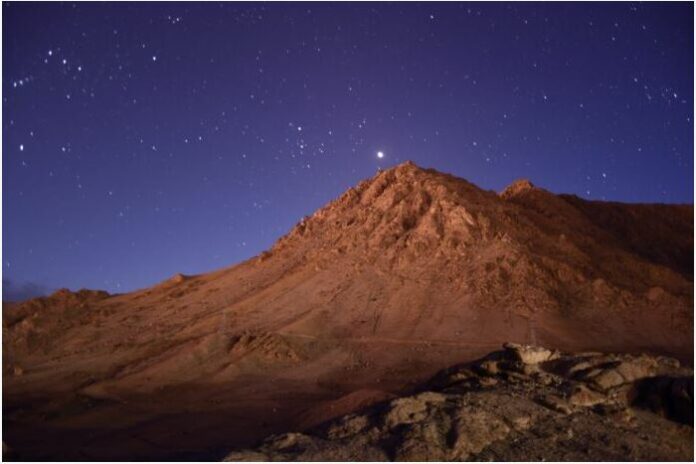 01.08. – 23.08.2023
What are the ecological and climatic challenges in high mountain regions? What is the significance of mountain regions for the planet in the 21st century? How do we engage with mountain landscapes, their elements, their culture and their communities?
sā Ladakh ("the land of Ladakh") is a new land art exhibition with a focus on climate, culture and civil society. The festival wants to stimulate dialogue between artists and local organizations on site, regionally and internationally in order to develop creative and sustainable solutions to the challenges of climate change. It was initiated by artists Raki Nikahetiya (Austria) and Sagardeep Singh (India) and local mountain guide Tenzing Jamyang.
The Austrian Cultural Forum New Delhi presents the film "Alpenland" (AT 2022, director: Robert Schabus, production: Nikolaus Geyrhalter), which deals with the living and cultural space of the Alps and the challenge of mass tourism and climate change.
At over 3600m above sea level, "sā Ladakh" in the Disko Valley in Ladakh shows multimedia works by Ladakhi, Indian and international artists, including the founders Vibha Galhotra, Phillipp Frank, Sharbendu De, Jigmet Angmo, Skarma Sonam Tashi, Tsering Gurmet Kungyam, Tsering Motup. Other participating artists include Anayat Ali, Małgorzata Stankiewicz, Kai Maluck, Arunima Dazess Wangchuk, Birender Yadav, Tundup Dorjey Churpon, and Ritu Sarin.
sā Ladakh
01.08. – 23.08.2023
Disko Valley
5HJH+H8G, Leh, Ladakh 194101
www.saladakh.com
austriakulturinternational.at