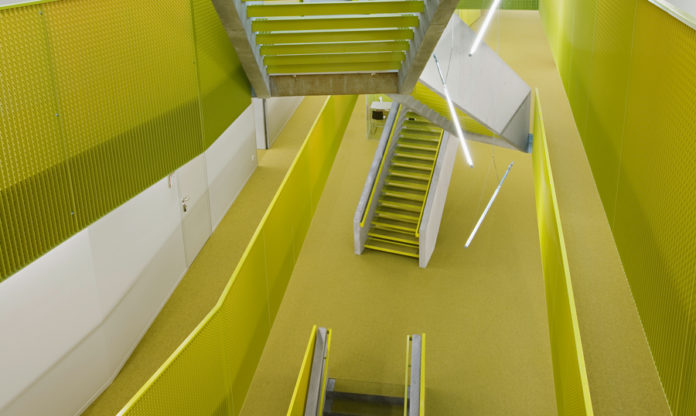 The Caramel Architects have won a large number of awards. Between designing family homes and working on larger projects they keep dedicating some of their time to art.
Architect's office Caramel Architects are not afraid of challenges. On the contrary, they seek them out and go so far as to make challenges their motto. Martin Haller, Ulrich Aspetsberger and Günter Katherl are kept on their toes all the time – be it due to participations at international architecture competitions or due to art projects like the Austrian Pavilion at this year's Venice Architecture Biennale. The challenges they seek out encourage the Caramel Architects to come up with innovative ideas and surprising concepts.
Residents of Linz have not forgotten about one of this architectural trio's projects: the Infocenter they designed for Linz09. The Caramel Architects did not only cover the shop but also parts of the main square including the former revenue office with a huge chequered tablecloth. Visitors could not miss this landscape in red, pink and white which welcomed them to the cultural capital and which is surely one of the memories they took home with them.
For those of you who missed out on Linz09, we warmly recommend an excursion to Linz' Science Park which can be found on the campus of Johannes-Kepler-University. This park is located in the North-East of the Upper Austrian capital and marks the transition between city and countryside. The three new buildings were constructed by the Caramel Architects who won the international competition in 2005. What's special about these buildings is that they are a little rough around the edges.
Raising a hand for science
The idea behind this project was that the different buildings stick out of the grassy hill like five fingers pointing towards the city. So far three of these buildings have been constructed. Their colourful interior adds a playful touch but the central vision of these buildings as a haven of technology and innovation on the outside and the inside remains intact. In addition to technical know-how these architects also want to create spaces for communication.
Science and interchange go hand in hand, which is why all buildings have open spaces and large staircases zigzagging between all floors. The Caramel Architects also seek professional exchange, giving lectures and collaborating with other artists on different projects. Their aim remains the same: broadening the horizons of architecture as "each project is a new challenge".
INFO:

Caramel Architects
www.caramel.at

Austrian Pavillon: 
www.ortefuermenschen.at