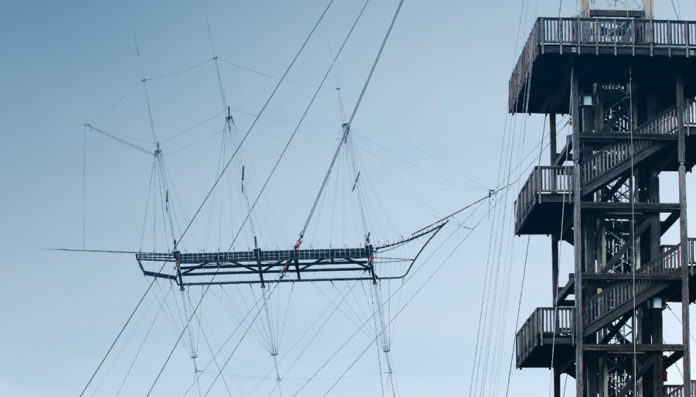 24.05. – 14.10.2018; Linz. All good things come from above. 

The Höhenrausch in Linz and the Element of Water.

When a three-masted ship hovers high above the rooftops of Linz, local people know: it is "Höhenrausch" time.

The successful project above the roofs of the old town of Linz has already attracted several millions of visitors since its foundation in 2009, the year Linz was awarded the title "Capital of Culture". This year, the motto of the "Höhenrausch" is: "Departure for the other bank".

The flying ship was designed by Russian artist Alexander Ponomarev. Ponomarev has devoted himself to the element of water with his spectacular works. He realized his projects in many different regions – from the Arctic to Greenland and the Antarctic. The intensive analysis of this element is no accident. After finishing his engineering studies in Odessa, Ponomarev became a marine. And Ponomarev knows how to set powerful gestures: at the 2009 Venice Biennale he entered the harbour with a submarine. He transplants massive ship skeletons to dessert dunes or to floating icebergs. The flying ship in Linz is a three-master. A flagship, signalling the overall artistic concept of this year's "Höhenrausch". A signal of departure – for other banks.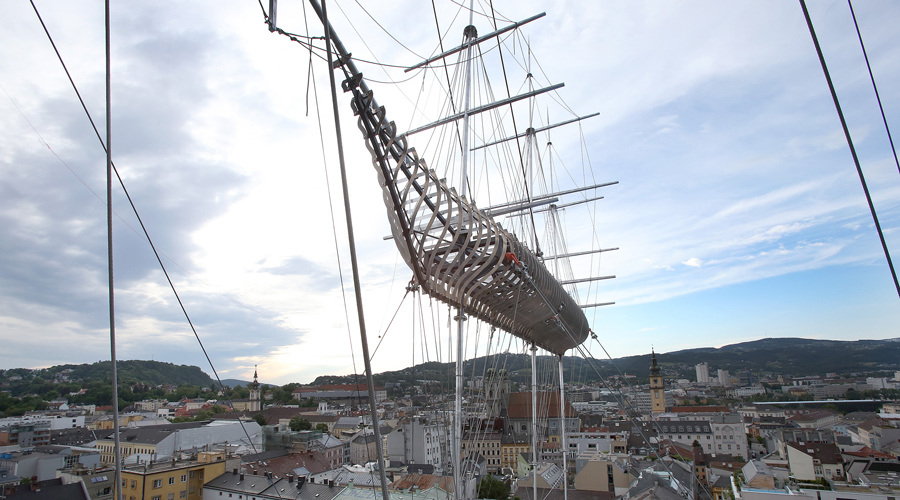 Elisabeth Schweeger, Genoveva Rückert and OK-director Martin Sturm curated the programme of the entire exhibition which will be presented on the rooftop of the Upper Austrian art quarter and the adjacent areas and rooms. The element of water serves as a collective starting point: as a spatial presence, a connecting link or as a boundary, as utopia to another world.
On deck of the OK, 40 works of international and regional artists will be exhibited. Among them an archetypical figure made of stranded goods by Cuban artist KCHO or a fountain by Benjamin Bergmann (Germany) that invites visitors to play. But there will be regional projects too. Andreas Strauss, for example, creates a container port by using ship containers on the parking level. The Upper Austrian media artist Leo Schatzl presents his "Floating Village" at the voestalpine openspace. Art students will move in there and live and work on some kind of island.
In the entrance area of the OK, Didier Fiúza Faustino recreates a wave with the aid of barriers as an interpretation of the pursuit of freedom.
The topic of the beauty of the sea as a connecting element is addressed in the big hall of the OK, where Chiharu Shiota links numerous red threads to metal boats. Each of these threads symbolizes an individual journey through life, together they form a network of relationships.
A wooden overseas container becomes the centre of "Loose Harbour": periscopes provide insights into visions of life at sea. Andreas Strauss, who lives in Ottensheim, will design the "galley" of the Höhenrausch in the form of a container port on the roof of the OK.
HÖHENRAUSCH
24.05. – 14.10.2018
OÖ Kulturquartier and the roofs above
OK Platz 1
4020 Linz
www.hoehenrausch.at